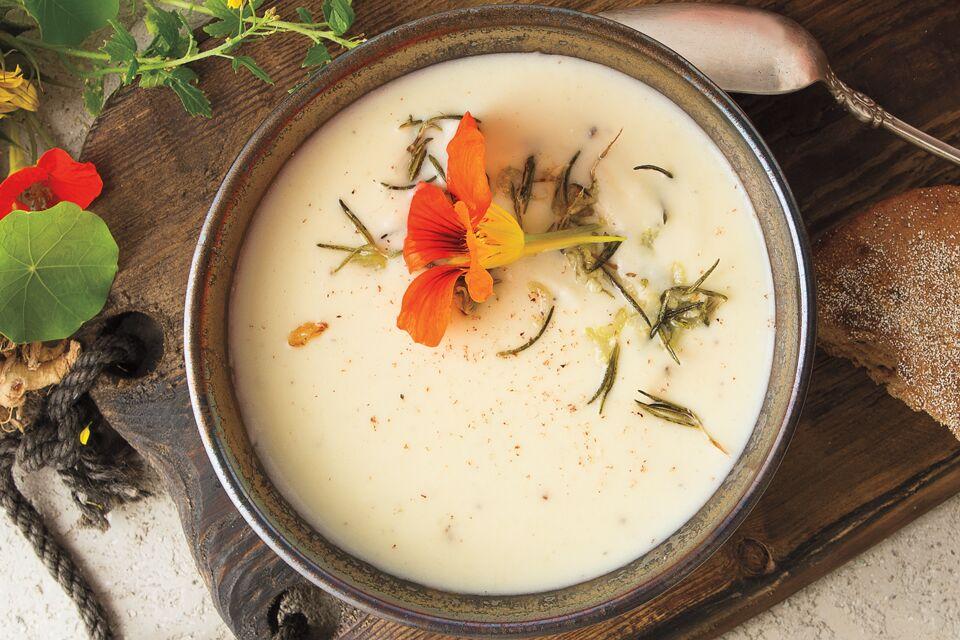 Let's face it: root vegetables have no appeal. Twisted, bulbous, knotty, earthy, they are not the first to catch the eye at the weekend farmers markets. But for those interested in eating locally and seasonally, they are a wonderful addition to the winter dinner table, packed with nutrients and boasting surprisingly subtle taste profiles.
And the underground world of production is deeper (ahem) than just potatoes, carrots and beets. We relied on four prominent East Bay chefs to gain insight (and recipes) into their favorite alternative root vegetables.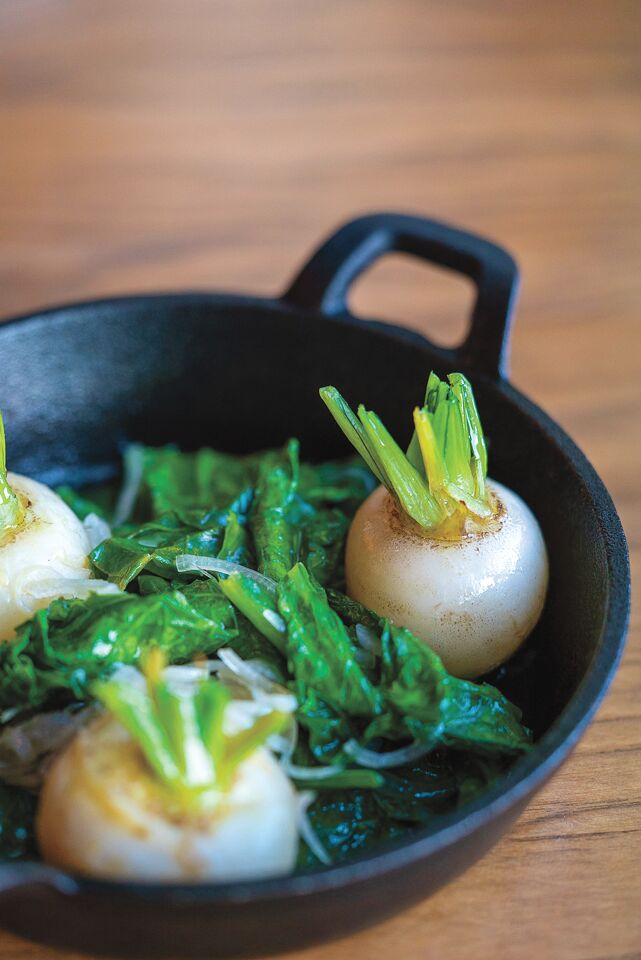 Fondant Tokyo turnips with their greens
Francis Hogan, Sabio on Main, Pleasanton
"Beets," says Francis Hogan of Pleasanton's Sabio on Main, "are an often overlooked vegetable." Depending on how well they are picked – Hogan gets his from Happy Acre Farm in Sunol – they can be eaten raw. No mouse, no trouble. "You can use them like a radish or a carrot," he says. "They are incredibly sweet, crispy and juicy."
That said, they do well when cooked "with respect." At the restaurant, Hogan often prepares them using a classic French fondant method usually reserved for potatoes: baked slowly with butter and chicken stock. He uses Tokyo (or "Hakurei") turnips, a smaller all-white variety that is typically both milder and juicier than standard. Another benefit of Tokyo tranquility is that you can use their green stems, which Hogan compares to spinach, but "with much more character."
Recipe
Ingredients:
2 pound Hakurei turnips with tops
8 ounce chicken stock
2 ounces butter
2 ounces extra virgin olive oil
2 shallots, cut into thin slices
4 ounces of white wine
2 tablespoons aged sherry vinegar
Trim turnips by removing the green. Leave about 1 inch of green on the turnip for aesthetics. Wash the green well in cold water, changing the water as needed. Roughly chop the green and save it. Bring a pot large enough to keep the turnips with heavily salted water to a boil.
Add the turnips to the water and cook for 2 minutes. Drain the turnips and dive into ice water to cool. Remove the turnips from the water. The outer skin should feel loose. Use a kitchen towel to gently massage the beets to remove the skin.
Cut the bottom of the beets so that there is a flat side and the beets can stand upright by themselves.
In a sauté pan, heat the butter over medium heat. Once the butter is melted, add the turnips to the pan with the cutting side down.
Cook for 2 minutes and then add the chicken stock to the pan.
Transfer the pan to a 375 ° F oven and bake the beets until a toothpick can be easily inserted and the chicken stock has evaporated, causing the turnips to have a golden brown crust on the lower cut side, about 10 to 15 minutes depending on the size.
While the turnips are cooking, cook the vegetables.
Heat the olive oil over medium-high heat. Add the shallots and sauté until soft, but do not let them get colored.
Add the turnip to the pan and cook, stirring frequently, to cover with the oil.
Add the white wine and reduce the heat to medium-low.
Cook, stirring often, until vegetables are tender but not mushy. The goal is to get most of the wine to evaporate.
Season the green with salt and pepper and add sherry vinegar.
Serve the turnips and their green plates together or separately.
Celery root soup with herb cream fraîche
Kelsie Kerr, Standard Fare, Berkeley
The celery root's rough, knotty brown exterior can easily scare the casual home cook away. However, Kelsie Kerr of Berkeley's popular breakfast / lunch destination Standard Danger encourages you to break it peel off and dig beneath the surface.
"I'm sure a lot of people think Wow, what do I do with it?says Kerr. "But then you peel and trim it and find this beautiful, pristine vegetable hiding underneath."
In terms of how to prepare this scary vegetable, Kerr recommends trimming the bare roots and then dividing them into quarters to make it easier to peel the rough exterior off and reveal the delicate white flesh underneath (she supports vertically-oriented Y- peelers for safety). Kerr describes the taste as stalk celery, but with sweeter, richer, rounder notes. Kerr sprinkles celery root through its winter menus by using it peeled in salads, cut into slices and toasted in sandwiches and pureed in, among other things, gratins, mash and soups. treatments. As her recipe shows, celery root can be treated in the kitchen in the same way as a potato, while giving a lighter mouthfeel and a more robust vegetable flavor.
"It's going really well with butter and cream," she says. "I also like that it has a full flavor, but you can still overlap other flavors on top of it."
Recipe
Makes about 2 liters
Ingredients:
3 cups medium chopped onion (1 medium to large onion)
3 1/2 tablespoons butter
4 cups peeled and sliced ​​celery root (about 1 pound)
3 1/2 dl water
Heat the butter in a thick-bottomed pan. Add the onion and fry over medium-low heat until the onions are deliciously soft and translucent. Add salt to taste and stir in the sliced ​​celery root. Cover with water and bring to a boil. Lower the heat to a simmer and cook until the celery root is soft. Blend to a puree. Add water to desired consistency. Season to taste with salt and adjust as needed. Serve immediately or store in the refrigerator for up to 1 week. Garnish with a spoonful of herbal sour cream.
Variations:
• Replace 1 cup peeled potatoes with 1 cup celery root
For a broth soup, cut the onion and celery root into smaller cubes and use broth instead of water. Do not puree.
Replace parsnips, carrots or turnips with celery root.
Herbed Fresh Cream:
Gives 1⁄4 cup
Any soft herb or herbs will work with this. Some favorites are: cut celery, chives, chervil, larch and acid.
Ingredients:
1⁄4 cup fresh cream
2 tablespoons chopped herbs
Salt to taste
Mix cream, herbs and salt. Taste and adjust salt as needed.
Kohlrabi salad
Nicolette Manescalchi, A16, Oakland
OK, we're cheating a little bit here, since kohlrabi is actually not a root vegetable. It is also not a turnip, despite being known as a "German turnip." It is rather in the Brassicas family that shares the same wild cabbage ancestor as broccoli, cauliflower and Brussels sprouts. But it is similar, and can be approached in the kitchen, like a root vegetable, with the bulk of the treatment of this winter crop centered around its round, bulbous stem.
While kohlrabi is often used in the same way as potatoes – steamed, fried, sautéed and roasted, as well as pureed or coarsely chopped and added as a vegetable filler to broth-based soups – – the former longtime A16 chef Nicolette Manescalchi (she recently retired) came along a unique preparation. To take advantage of the vibrant purple kohlrabi that the Rockridge-based restaurant picks up from Mariquita Farm in Watsonville, she decided to cut it into thin slices with a vegetable peeler and highlight it as a meat substitute in her version of a vegetarian carpaccio. The crispy, raw texture and mild, spicy flavor profile of the veggie goes well with a rather complex salad that balances elements of acid (lemon), salt (fried capers and grana padano cheese), fat (olive oil) and spices (arugula and pepper). ).
The dish has proven so popular that the A16 has brought it back every winter since its launch in Oakland in 2013.
"The kohlrabi salad became a staple of Rockridge from the time the room was built and tested. [the recipe], "Says A16 owner Shelley Lindgren. "It's refreshing in winter and summer in our Mediterranean climate."
Recipe
Ingredients:
1/4 cup capers, preferably salt-packed
2 small kohlrabi, cut very thin on mandolin
1 fennel onion, cut very thin on mandolin
1 small shallot, cut very thin on mandolin
4 cups wild arugula
Lemon juice to taste
Extra virgin olive oil
Salt to taste
Grana padano cheese (can replace parmesan)
Fresh black pepper
For capers:
Soak capers in plenty of water, replacing it several times, if necessary, to wash out salt. Taste one to know when it is ready.
Heat olive oil in a small saucepan, filling about halfway, until about 350 ° F. Add capers and fry until flowery and crisp, about 1 minute. Drain on a towel and set aside.
Combine kohlrabi, fennel, shallots, arugula, lemon juice, olive oil and salt and turn. Taste and adjust lemon / oil or salt as needed. Plate salad and top with shaved grana padano, freshly ground pepper and fried capers.
Roasted Sunchokes
Paul Magu-Lecugy, Rêve Bistro, Lafayette
If you thought you had a complicated relationship with vegetables, you've never heard of France's thorny history of sunchoke. According to Rêve Bistro's Paul Magu-Lecugy, the French traditionally classified the Jerusalem artichoke (as it is also known) as suitable only for animals and the very poor. That changed with the Nazi invasion of France during World War II, when the Germans confiscated most of the country's food to feed its army – except sunchokes.
"Many of the French survived completely on sunchokes or risked starvation," says Magu-Lecugy. "When I was growing up, my grandmother would not eat them; my mother would reluctantly. "
It is perhaps no surprise that this root green has only recently returned to fashion. For his part, Magu-Lecugy loves them. He describes the taste as nutty, "resembling a roasted chestnut with the skin on." Texturally, they look like a potato and can be treated in the same way by being shredded, baked, pureed and more, with "each technique brings out a different taste and texture." Although they can be cooked in several ways, Magu-Lecugy says he associates winter vegetables with the game season in France and often cooks them accordingly.
"Sunchokes," he says, "are a perfect accompaniment to venison."
Recipe
Ingredients:
1 pound sunchokes (wash and peel or scrub)
1 tablespoon olive oil
1 tablespoon butter
2 sprigs of thyme
Cut sunchokes into 1.5-inch pieces. Heat a pan on the stove with olive oil and sauté them for about 5 min, until they start to turn golden brown (stir a few times). Add a few whole cloves of garlic (let the peel sit and crush), 2 sprigs of thyme, a generous tablespoon of butter, and season with salt and pepper.
Put the pan in a 350 ° F preheated oven and fry for 45 minutes until soft.
.