Here now resident chef Kathy favor brings two tasty soups for hosts Robin Young and Jeremy Hobson to taste. These recipes and tips come from Kathy's cookbook "Soup Swap", published by Chronicle Books.
---
Sopa Di Lima (Mexican-style lime and tortilla chicken soup)
I have been a big fan of this lime, chicken and tortilla soup from the very first dish I tried on the Yucatán Peninsula in Mexico many years ago. Ideally, you make your own chicken stock, which will give you a great soup base and the cooked chicken. And I hope you will try the very simple homemade tortilla strips that lie on top of this soup, for they are shockingly good and easy to make.
However, you can cut the corners for this soup and use canned chicken stock or box, a grilled chicken from your favorite market and tortilla chips. But let me tell you – it's not the same thing.
Serves 6.
The soup
2 tablespoons olive oil
1 large onion, chopped
3 cloves garlic, finely chopped
Salt and freshly ground black pepper to taste
1 jalapeño pepper, cored, seeded and finely chopped
1 cup diced tomatoes, canned or fresh
1 tablespoon fresh oregano, chopped
4 cups chicken stock, homemade or canned with low sodium content, organic
1 cup boiled shredded chicken
4 tablespoons fresh lime juice, 2 large limes
Tortilla Strips
6 corn tortillas, cut into 1/2-inch thick strips
Canola oil for frying
Salt to taste
Garnish
1 poblano pepper, chopped
1 ripe, but not too ripe or mushy avocado, cut into small cubes
1/4 cup finely chopped fresh coriander
1 cup cotija Mexican cheese, or feta, grated or finely chopped
1 lime, cut into cubes
Instructions
Make the soup: Heat the oil in a large saucepan over low heat. Add onion and garlic and fry for 10 minutes. Season with salt and pepper. Stir in the jalapeño and cook for another 2 minutes. Stir in tomatoes and oregano and cook for 5 minutes. Raise the heat to high, add chicken stock and bring to a boil. Reduce heat to low, cover and cook for 30 minutes. Add the chicken and fry for another 5 minutes.
Meanwhile, make the tortilla strips: In a medium-sized frying pan, heat enough oil to get 1/2 inch up the sides of the pan. Heat the oil until hot; a small piece of tortilla or a blob of salt or flour should immediately boil. Cook the tortillas, one at a time, for about 1 to 2 minutes on each side, or until golden brown and slightly puffed. Remove and drain on paper towel; sprinkle with salt. Repeat with the remaining tortillas. The tortilla strips are best made just before serving; if you are making them, you may be able to heat them in a 200 degree oven for a few minutes.
Just before serving, add the lime juice and season with spices, add more salt, pepper, jalapeño or lime juice if necessary.
For serving: Place all decorations on a large serving dish or bowl. Pour the soup into a bowl and place 2 to 3 tortilla strips on top. Everyone can add their own garnish.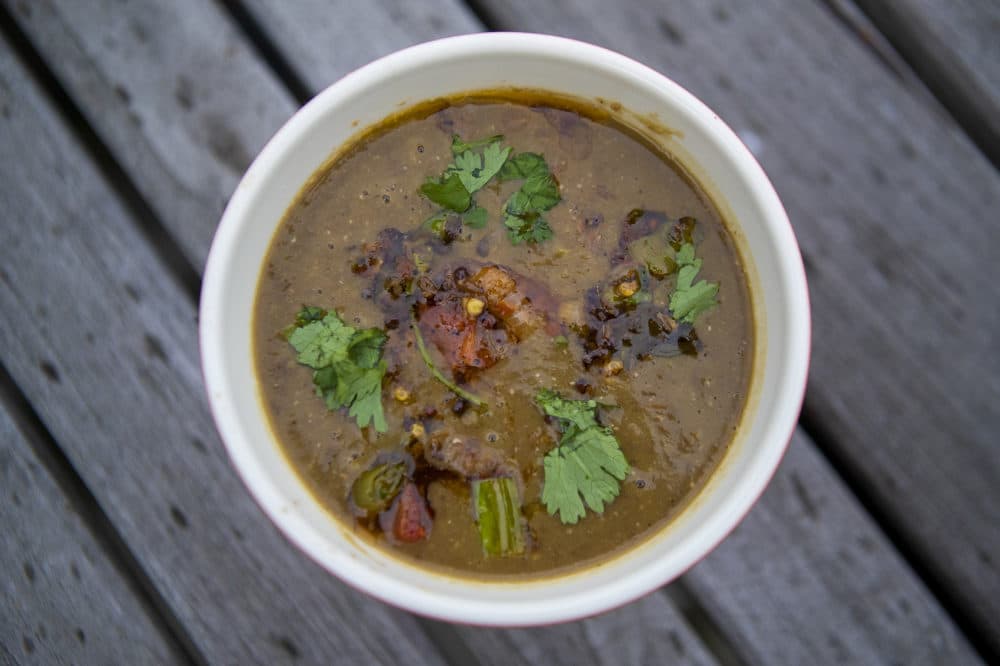 Mulligatawny soup (spicy red lentil soup in Indian style)
Taste – that's how I would describe this soup. There is sweet coconut milk, ginger and garlic, and then another layer of soft red lentils and crisp Indian spices. A spicy and tasty topping of butter, spices, chili peppers and chopped tomato is poured over the top.
This recipe is a adaptation by one from the legendary cookbook author, Indian food expert and actress, Madhur Jaffrey.
You can control the amount of heat you add to the soup by adding more or less chili peppers to the soup and topping. This soup can be vegetarian if you use vegetable broth and will be vegan if you omit the yogurt top.
Serves 8.
The soup
1 tablespoon rapeseed oil
1 tablespoon butter
3 cloves garlic, finely chopped
A 2-inch piece of fresh ginger, peeled and finely chopped
2 spit bowl, chopped
1/4 to 1/2 tablespoon fresh jalapeño pepper, finely chopped, seeded or with seeds *
Salt and freshly ground black pepper to taste
1 teaspoon crushed cumin
1 tsp Garam masala
2 tablespoons flour
1/2 cup plus 2 tablespoons fresh coriander, finely chopped
8 cups chicken stock or vegetable stock
1 1/2 cups split red lentils, 9.5 ounces
1 cup sweet canned coconut milk
2 to 3 tablespoons fresh lemon juice
1 cup Greek yogurt or plain full-fat yogurt for garnish
*Add the smallest amount of chili if you do not want a very spicy soup.
Tomato-Chile top
3 tablespoons lightly salted butter
3/4 teaspoon black mustard seeds
3/4 teaspoon cumin seeds
1/8 teaspoon crushed cumin
1/8 tsp garam masala
1 dried red chili pepper, crumbled, approx. 1/2 tsp to 1 tsp
2 tablespoons finely chopped scallion
1 small ripe tomato, finely chopped
Salt and freshly ground black pepper
Instructions
Make the soup: Heat oil and butter in a large saucepan over low heat. When the butter bubbles, add the garlic, ginger and scallion and cook, stirring, for 5 minutes. Add jalapeño, salt and pepper and cook for 2 minutes. Add cumin and garam masala and cook, stirring, for 1 minute. Sprinkle with the flour and cook for 2 minutes. Stir in the 2 tablespoons coriander and raise the heat to high. Stir in the lentils and cook for 30 seconds. Add broth and bring to a boil. Reduce heat to low, cover and simmer for about 25 to 30 minutes, or until lentils are tender and tender.
Remove from heat. Use a food processor, blender or stick blender to puree the soup until smooth. Put back in the pan and season with spices; add salt and pepper if necessary. Add coconut milk, lemon juice and half of the remaining coriander and simmer over low heat for 5 minutes.
Make the topping: Heat the butter over low heat in a small saucepan. Add mustard seeds, cumin, crushed cumin, garam masala and chili pepper and cook for 2 minutes. Add half of the scallion and tomato, salt and pepper and cook for another 3 minutes, or until the mixture is bubbling and fragrant. Remove from heat; the sauce can be made several hours ahead of time.
Heat the topping until it bubbles over low heat. Serve hot with just a splash of the sauce (it can be quite spicy), sprinkled with the remaining coriander and scallion and a dollop of yogurt.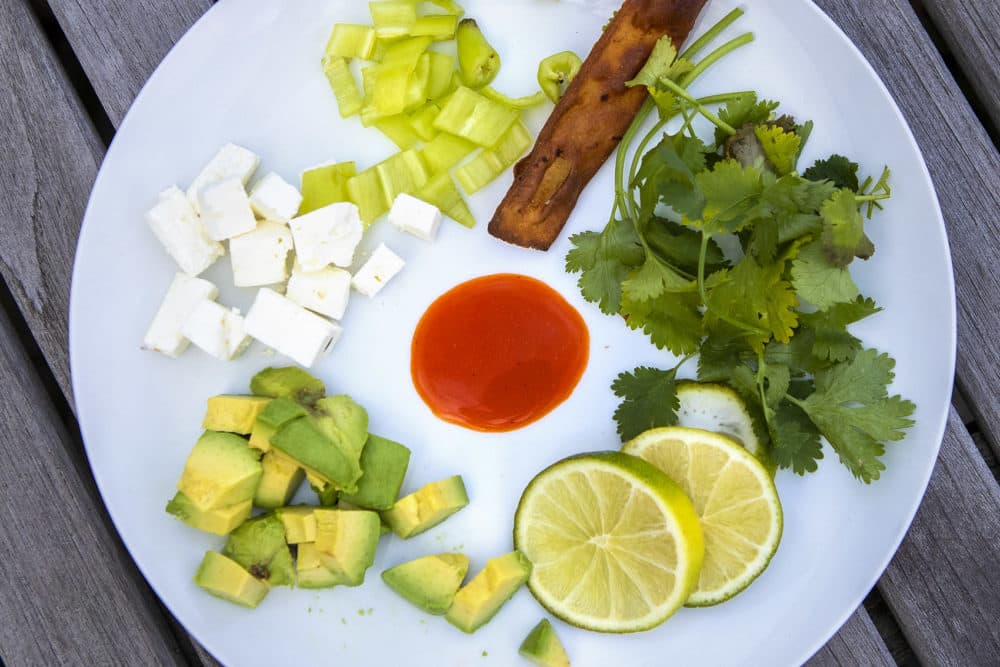 Decorations: Toppings, Crunch, Color, Taste, Pow!
Sometimes the simplest ingredients can bring out great flavors in a soup. Here are a few ideas for decorations or toppings that can turn an ordinary old bowl of soup into something festive.
Lemon oil, orange oil or any herbal flavor oil: A few drops will bring out new flavors in your soup. Use a clean, sterilized eye drop to add a few drops to finished soups as a garnish. Even a small splash of very fruity extra virgin olive oil will add a delicious finish to soups.
Grated citrus peel: think lemon and Meyer lemon, but also mandarin, grapefruit, lime or orange. Citrus can really evoke the taste of vegetable, poultry or meat based soups.
Candied ginger cut into very thin strips: adds the stiffening bite of ginger and hints of sweetness.
Roasted coarsely chopped nuts: from walnuts and almonds and hazelnuts to pistachios and pine nuts.
Cooked and crumbled pancetta or bacon: adds a meaty dimension to vegetable-based soups.
Fresh crab meat (or boiled lobster, cut into small pieces): deliciously stacked in the middle of vegetable soups or seafood soups.
Grated or thinly sliced ​​cheese: from hard cheeses like Parmesan and Gruyere or crumbled, soft goat cheese, ricotta or feta.
Parmesan cheese slices: grate the cheese and place a heaped tablespoon on a Silpat plate or a piece of baking paper on a baking tray in a 350 degree oven for 10 minutes. Cool slightly and remove with a flat spatula.
A blob of sour cream or Greek yogurt
Croutons and croutons
A sprinkle of chopped fresh herbs compliments the herbal flavor used in the soup: chopped chives, freshly chopped basil, rosemary, thyme, lemon verbena, etc. Do not use dried herbs unless necessary – they will not add much umph!
Sprinkle micro green or pea shoots on top of the soup for color, texture and a fresh green flavor
Tortilla strips or taco chips add salt and crunch
Roasted chickpeas add crunch and flavor
A blob of Harissa (a Tunisian hot chili pepper paste)
A spoonful of salsa or hot pepper sauce
Pomegranate seeds add color, crunch and fruity flavor sprinkled on top of pureed soups and vegetable soups
Tapenade or stoned finely chopped green and / or black olives
Roasted red, yellow, green peppers, finely chopped or cut into thin slices
Chopped or very thin slices of sun-dried tomatoes
Avgolemono soup (chicken-lemon-orzo soup in Greek style) with Meyer lemon and dill
This is pure comfort food: chicken broth with parsnips and carrots, enriched with egg yolks, cream and a good amount of fresh lemon juice. Orzo is finally added for a delicious, soothing, healing winter soup.
Here's a tip: Boil the orzo too little and only add it to the soup about 15 minutes before serving. When you reheat the soup, the orzo will be done boiling. The reason for this is that the pasta "drinks" the broth up and makes the soup get too thick.
Yes, you can make this with canned chicken broth and grilled chicken from the grocery store, but it does not taste like mine. Boil a pot of chicken soup – chicken, carrots, celery, onions and an hour later you have a boiled chicken and a wonderful homemade broth.
Serves 8.
ingredients
1 1/2 tbsp olive oil
1 medium onion, chopped, 1 cup
1 parsnip, peeled and chopped, approx. 1/2 cup
1 carrot, peeled and chopped, approx. 1/2 cup
Salt and freshly ground black pepper
8 cups chicken stock
2 cups cooked, without skin, diced or shredded chicken
2 egg yolks
1/3 to 1/2 cup heavy cream *
About 1/3 cup to 1/2 cup lemon juice or Meyer lemon juice
1/2 teaspoon grated lemon peel
1 1/2 tablespoons chopped fresh dill
1/2 cup orzo
Decorate
8 to 10 paper-thin slices of lemon or Meyer lemon
1/4 cup chopped fresh dill and 1/4 cup chopped fresh parsley mixed together
*The amount of cream you add depends on how creamy you like your soup. Start with 1/3 and then add more.
Instructions
Heat the oil over low heat in a large soup pot. Add the onion and fry while stirring for 5 minutes. Add parsnips and carrots, salt and pepper and cook, stirring once or twice, another 5 minutes. Raise the heat to high and add chicken stock. Bring to a boil. Reduce heat to low and simmer under lid for 20 minutes. Add the chicken and stir.
Meanwhile, whisk the egg yolks and cream in a small bowl. Pour approx. 1/2 cup of the hot broth in the egg yolk / cream mixture and whip. This step is called tempering and helps introduce cold liquids to hot liquid so that it does not solidify. Keep the soup over a low boiling point, whisk until smooth and incorporated. Add lemon juice, lemon peel and dill; the soup should have a pronounced lemon flavor. Let it simmer on very low heat. Season to taste.
About 45 minutes before serving, bring a medium saucepan of salted water to a boil. Boil the orzoen for approx. 9 minutes or until al dente; the orzo must taste undercooked. Drain. Add the soup about 20 minutes before serving. The orzo will soak up some of the nordic, so you will not let it boil for too long in the hot soup. Let it simmer over low until the soup is hot and the orzo is tender; taste to. Serve with a thin slice of lemon and sprinkle with the dill / parsley mixture.