This soup is my defiant answer and rebellion to the overly sweet treatment of sweet potatoes. It is balanced, spicy, creamy and warming. I love the earthy sweetness of sweet potatoes and this soup celebrates it without adding more sweetness. And I do not know about you, but I always buy too many sweet potatoes and leave them in the pantry until they are a little over their best. Well, this Thai red curry sweet potato soup is the perfect way to use them all.
I created this soup for that very reason; I had a few kilos of sweet potatoes that look a little shabby – still completely edible, just a little forgotten and a little spotty. So I started thinking about what to do with them and decided on soup. So, since I am always on the hunt for balance in my recipes, I quickly turned to one of my favorite flavor profiles: Thai Red Curry. The heat, the tingle, the cream. I knew it would be the perfect couple with my cute little taters.
Choose your own sweet potato adventure
I chose to fry them, but you can just as easily peel, chop and get them straight into the pan raw when you add your broth. Just cook them tender and continue with the recipe as written. I just hate peeling potatoes and avoiding it at all costs, so I rubbed them with olive oil and salt and threw them in the oven out of sheer laziness. I must also mention that this would be a great way to use remnants of sweet mashed potatoes. I would not recommend it for sweet potato casserole dishes unless you want a very sweet soup. And finally, you can make this with any kind of winter squash, pumpkin or even cauliflower whose sweet root vegetables are not your thing. I plan to try it with cauliflower soon.
What goes into the Thai red curry sweet potato soup?
Well, lots of sweet potatoes. But while their taste really shines, for me it's about the most Thai inspired flavors and toppings:
coconut milk
white misopasta
coconut oil
toasted sesame oil
lots of chopped ginger
chopped garlic
onion
Thai red curry paste – I use Thai Kitchen
ground white pepper
For serving, drip, sprinkle or spray one or more of the following:
chili crisp or chili oil – I recommend Fly by Jing or Lao Gan Ma
coconut milk
toasted sesame oil
roasted sesame seeds
cilantro
chopped green onions
roasted, unsweetened coconut flakes
fresh limes
I feel I must mention that this soup is naturally vegan as long as your Thai red curry paste is – I use the Thai Kitchen brand, which happens to be vegan. If you are not worried about keeping it vegan, you can use chicken broth and add a few splashes of fish sauce for a little extra flavor. And you shall press fresh lime over for serving – in my opinion it is essential and so delicious. It just makes all the flavors pop.
Do not overthink this recipe – Use any kind of onion you have, if you love ginger like I do, add plenty of it! Do not have misopasta? Add soy sauce. Soups are so laid back and so should you. Just make sure to taste too salty at the end. I prefer to add soy sauce at that time rather than salt, but feel free to use either.
For full recipe and instructions go to https://wildthistlekitchen.com/thai-red-curry-sweet-potato-soup/.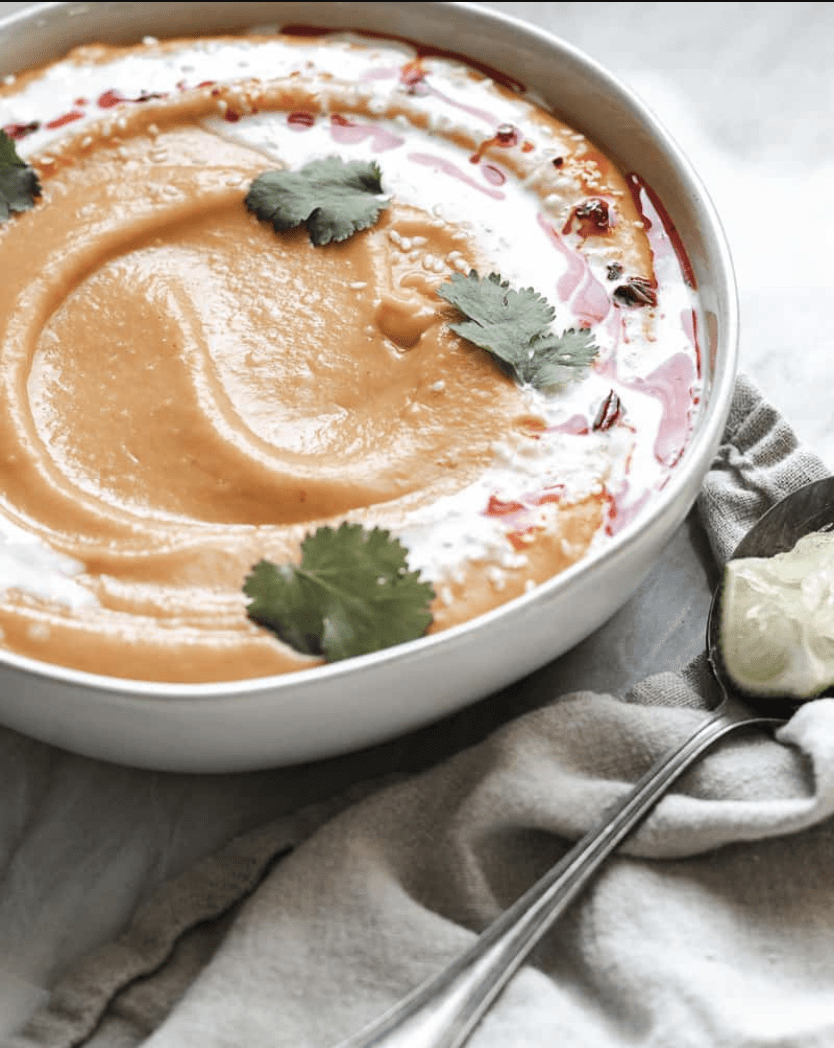 tags

Sweet PotatoesThai Red Curry Sweet Potato Soup VeganWild Thistle Kitchen Winter Recipes Delicious Soup