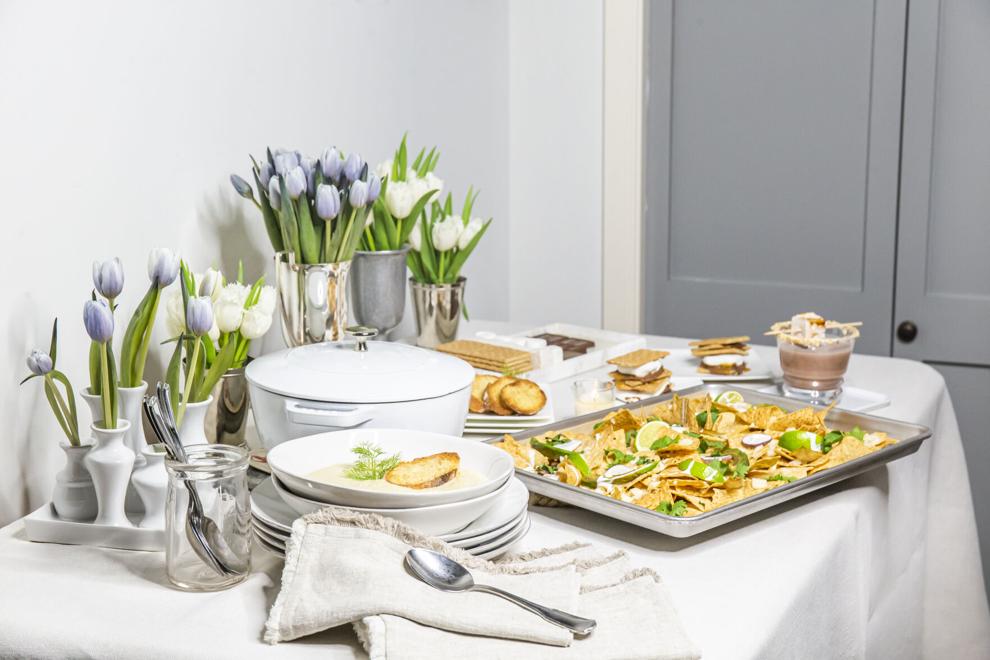 As we enter 2022, my hope is that we approach the new year with a clean slate and an all-is-possible mentality.
After a busy holiday season – and a busy year – I like to clear my mind and hunger for winter and lean into a clean, peaceful, winter-white palette.
This month's invitation helps you streamline your entertaining style with a simple three-piece dinner plan that includes a nacho-lite salad and roasted cauliflower-leek soup, super-easy plates of s'mores and a s'more martini that will give you all the warm sensations.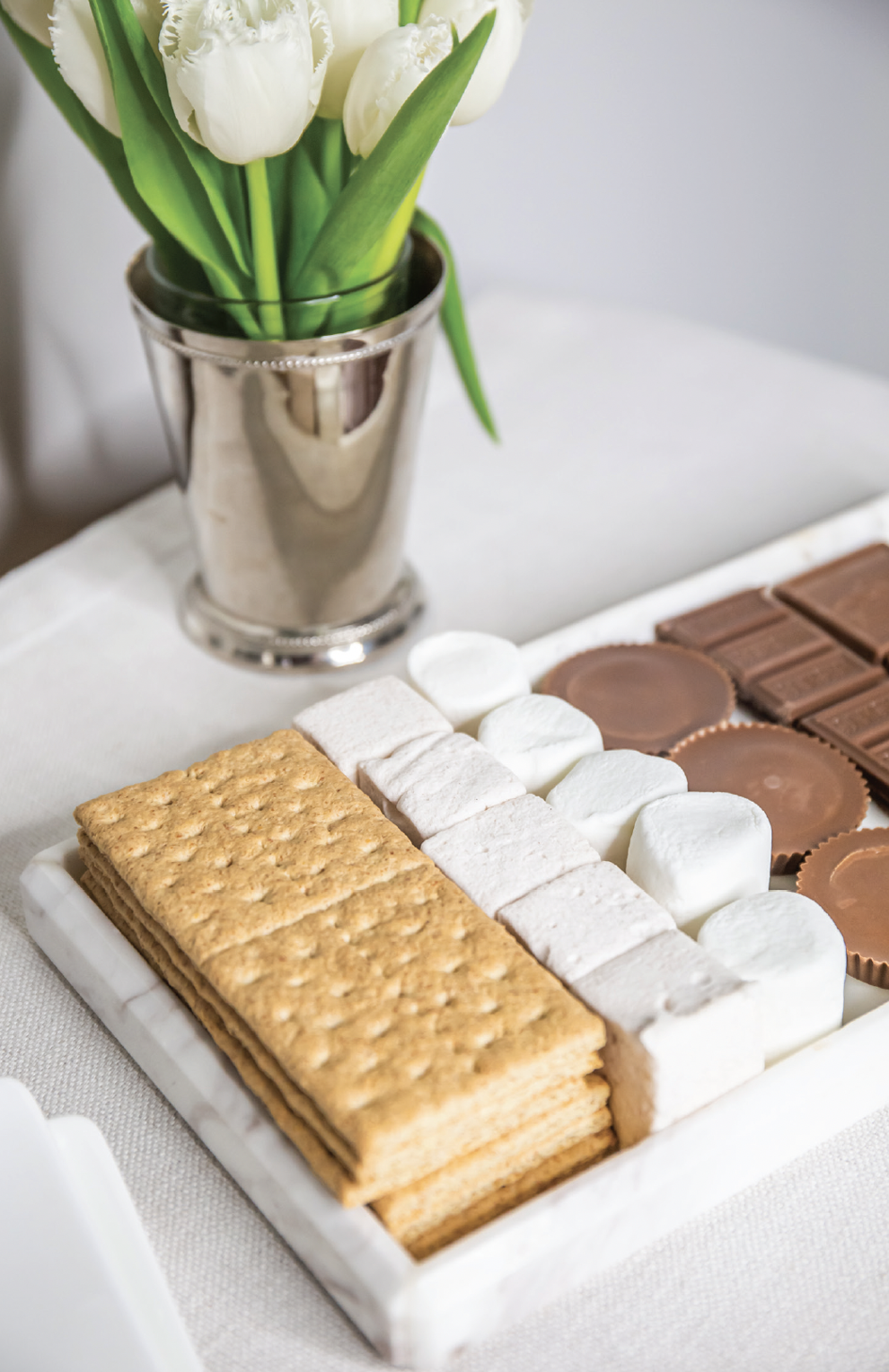 More S'Mores
Doubled on s'mores this January with a sweet tear of a s'more martini and a delicious and super easy classic closer, sheet pan s'mores.
For s'mores, guests are offered a variety of chocolate options, from peanut butter cups to chocolate and caramel. No campfire required.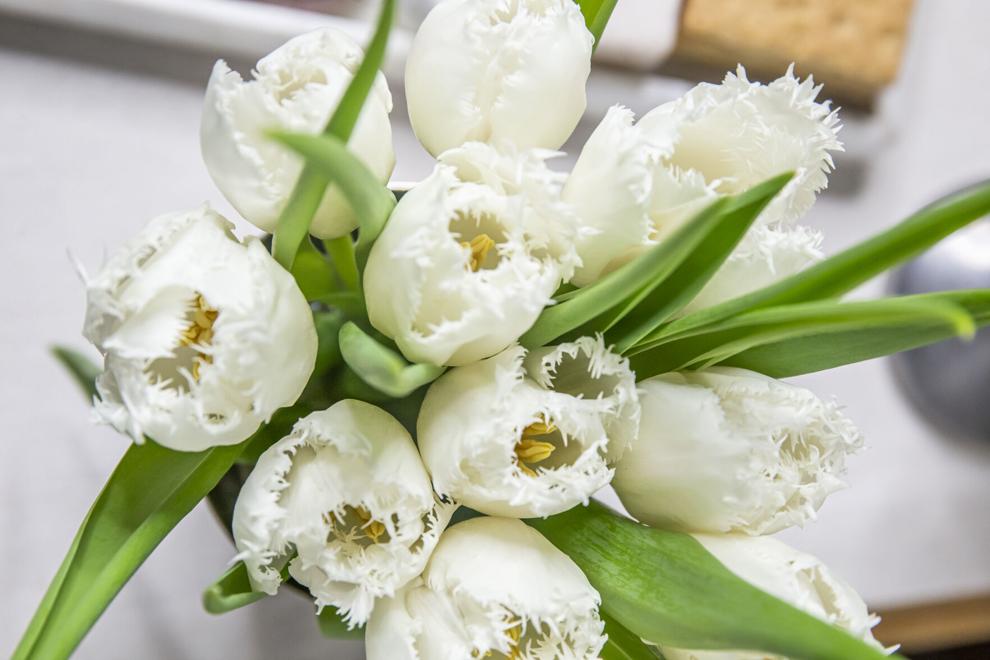 Set the scene
Less is more. I started with a simple linen tablecloth and added beautiful fringed napkins in shades of off-white and pulled out the cream-colored tableware.
I recommend adding small arrangements and individual stems of fresh flowers in shiny silver and tin containers. I fell for these white Dutch tulips and flowers with ruffle edges that are double-colored in the dreamy icy blue hue.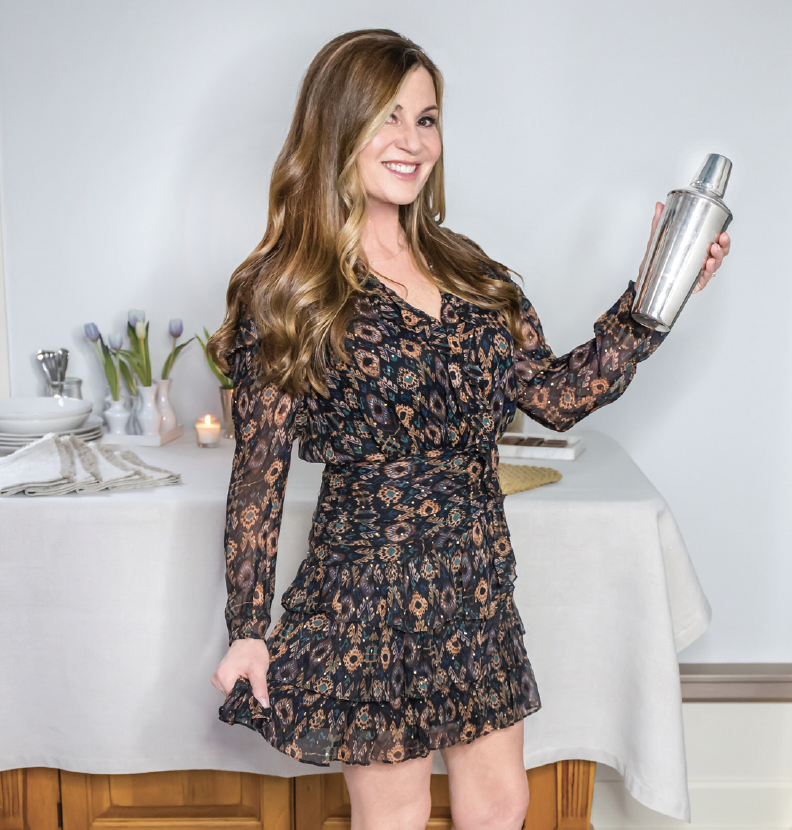 Preheat the oven to 375 degrees
ingredients
Graham biscuits
Marshmallows
Hershey's chocolate squares
Reese's peanutbutter copper
Chocolate and caramel squares
Chocolate mint squares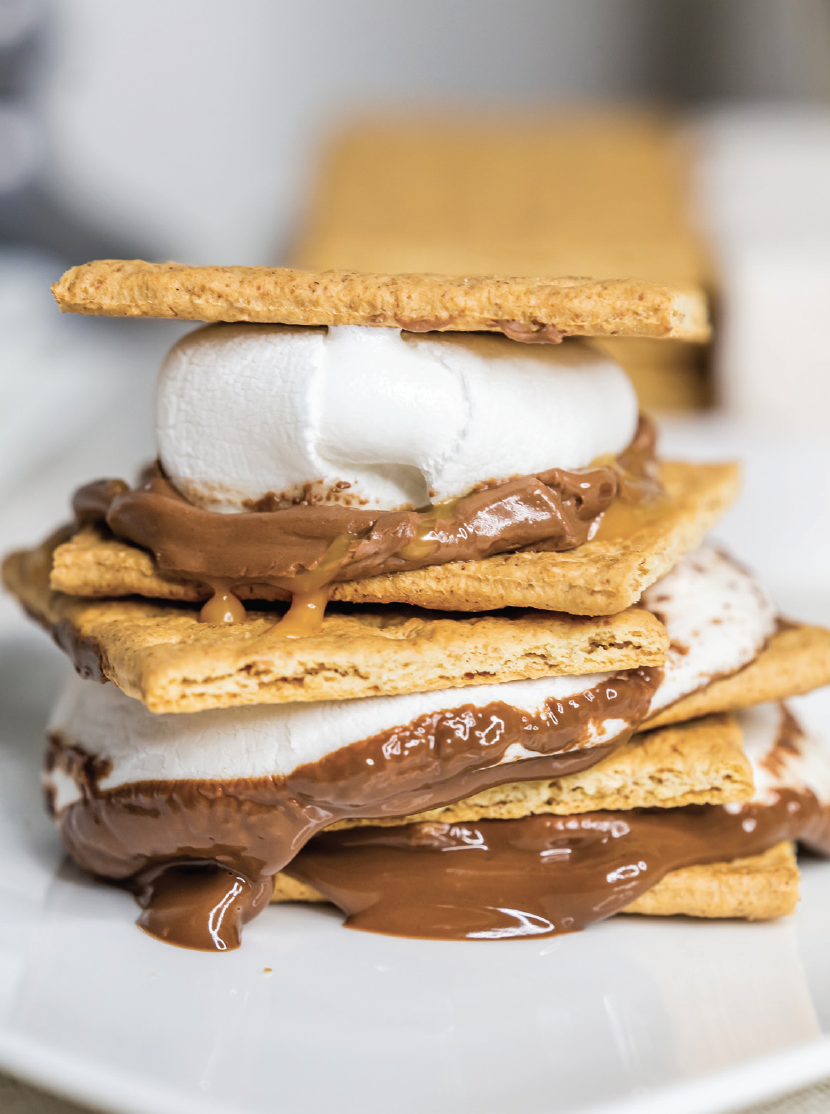 Method
Line a plate with parchment paper for easy cleaning. Arrange the graham biscuits on the pan, and top each bottom biscuit with chocolate and a marshmallow. Carefully place the pan on a center oven rack.
Watch out – when the marshmallow starts to melt, open the oven and add a biscuit to each s'more. Crush it down a bit.
Continue baking until the marshmallows and chocolate seep. Cool for a minute and serve immediately.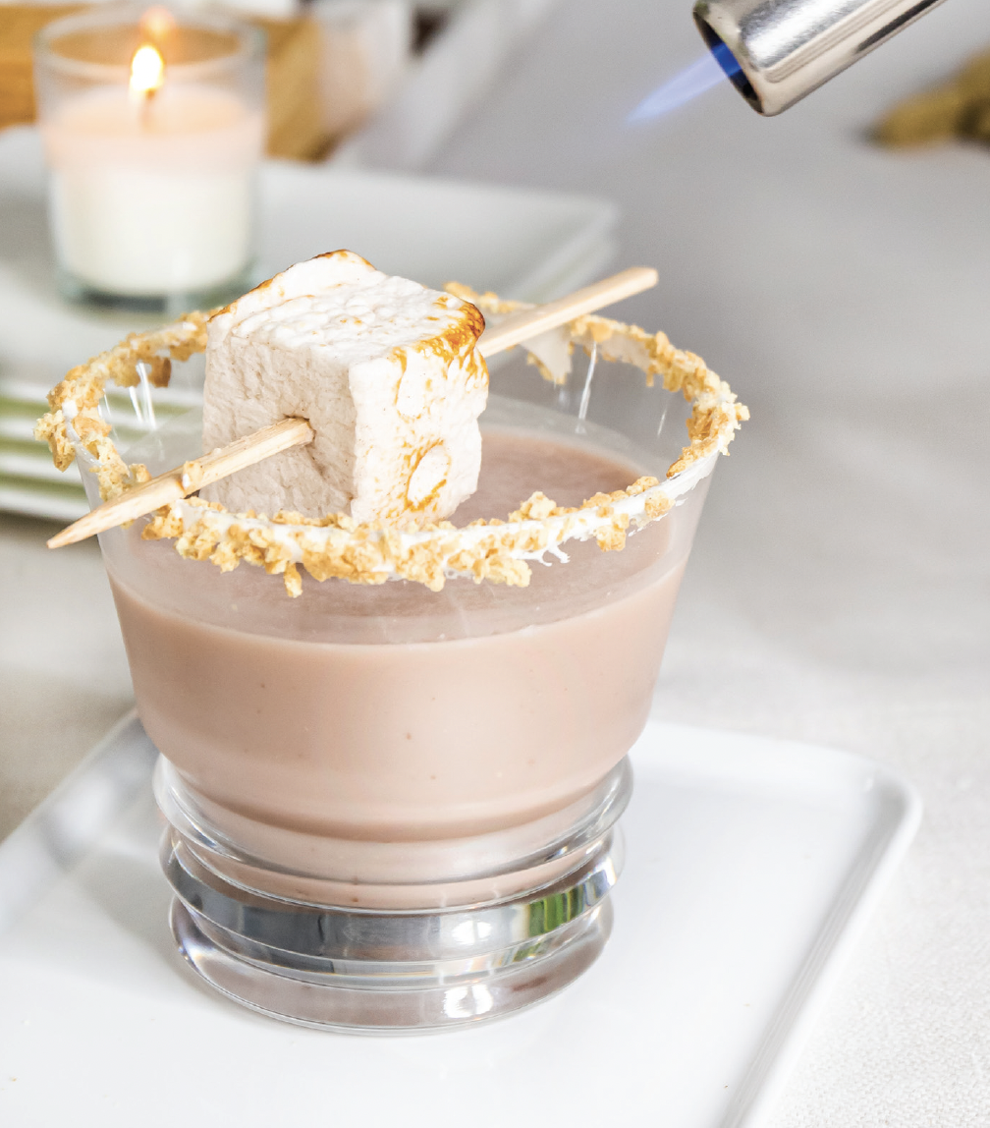 Make 1 cocktail
Marshmallow fluff and crumbled graham biscuits on the edge, sparkling dark chocolate liqueur, vodka and cream and a lightly toasted marshmallow to order. This sip is just desserts.
ingredients
1 bowl of marshmallow cream (Toonie Moonie)
1 crushed grahams biscuit
Ice
2 ounces of vodka
1 ounce dark chocolate cream liqueur
Sprinkle cream
1 marshmallow
Method
Lightly stir the edge of a martini glass into the marshmallow cream and roll it in the crushed graham biscuits. (I crush the graham biscuits in a Ziploc plastic bag and beat them with a rolling pin.)
Add a little ice cream to a cocktail shaker and pour in the vodka, liqueur and cream. Shake vigorously and fill the prepared glass.
Top the glass with a skewered marshmallow, and gently shake the marshmallow lightly with a kitchen burner until it has golden markings. (If you do not have a kitchen lamp, you can gently fry your marshmallow over a hot burner.) Cool and enjoy!
Preheat the oven to 400 degrees
Roasting cauliflower, leeks and fennel adds a deep, rich flavor to this creamy winter white soup. It's right, but still solid enough to be a delicious meal in itself.
ingredients
2 cups cauliflower bouquets
3 leeks in slices, only light green and white parts
1 small fennel onion, chopped
2 whole cloves garlic
2 fresh bay leaves
Olive oil for dripping
Peel a lemon
Salt and pepper to taste
1¼ dl vegetable broth (further to dilute the soup)
¼ cup of cognac
1/3 cup grated Gruyere cheese
½ cup half and half
Fresh parsley for garnish
Method
Spread cauliflower, leeks, fennel, garlic clove and bay leaves on a baking sheet. Drizzle abundantly with olive oil, and sprinkle with lemon zest, salt and pepper.
Fry for about 20 to 25 minutes until the vegetables are tender and just starting to char easily. Put the vegetables in a food processor and pulse until they are fairly smooth.
Pour the mixture into a soup pan. Add broth and cognac. Let it simmer for 20 minutes until the flavors come together. Use a stick blender to puree the soup until smooth. If the consistency of the soup is too thick for your taste, add more broth.
Sprinkle the cheese in and drizzle half and half in, and cook over low heat until blended.
Serve, topped with a slice of Gruyere toast and a sprig of fresh parsley.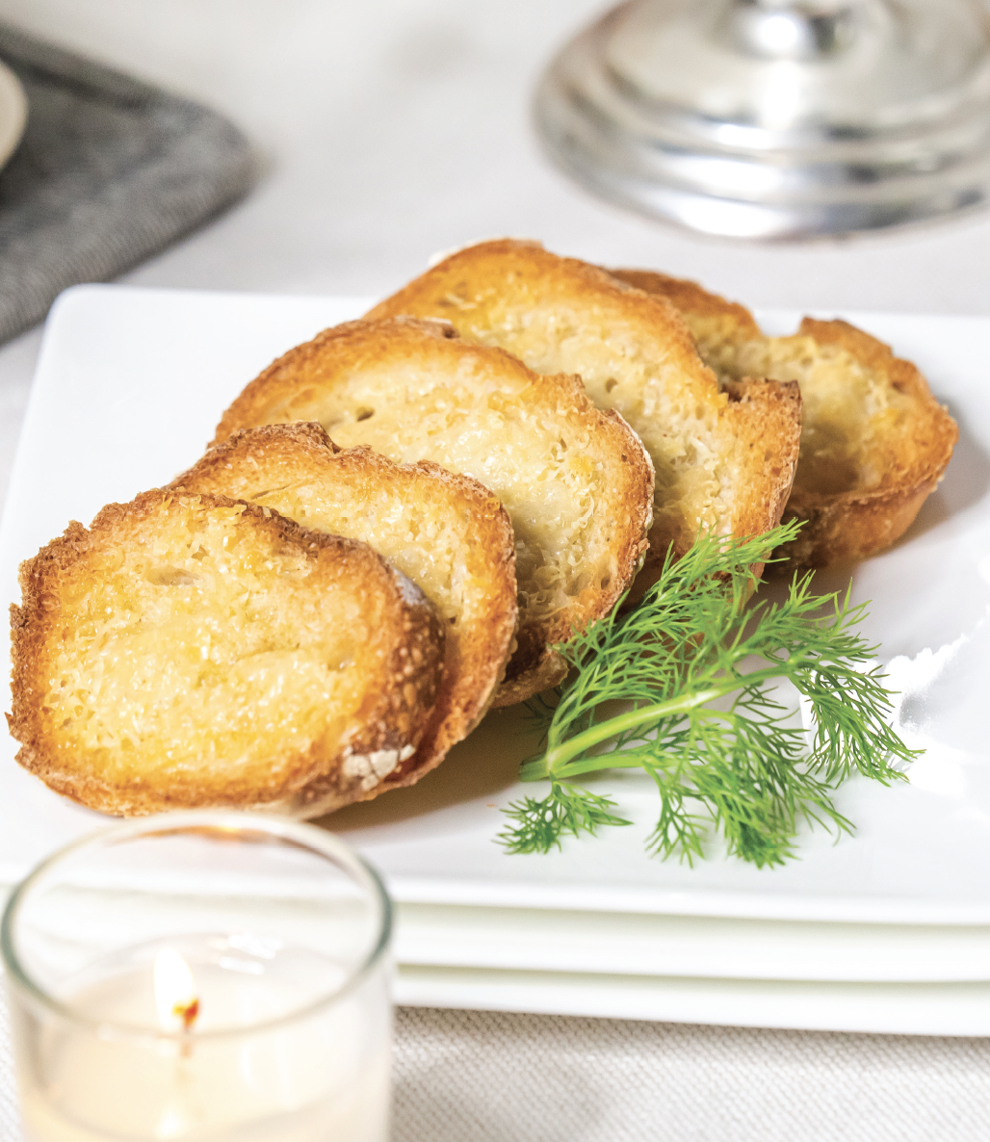 Preheat the oven to 350 degrees
ingredients
1 small baguette, cut into slices
Olive oil
1/3 cup grated Gruyere cheese
Method
Drizzle the baguette slices with olive oil, and sprinkle the top with cheese. Bake at 350 degrees for about 8 minutes until the bread is golden and crispy and the cheese is melted.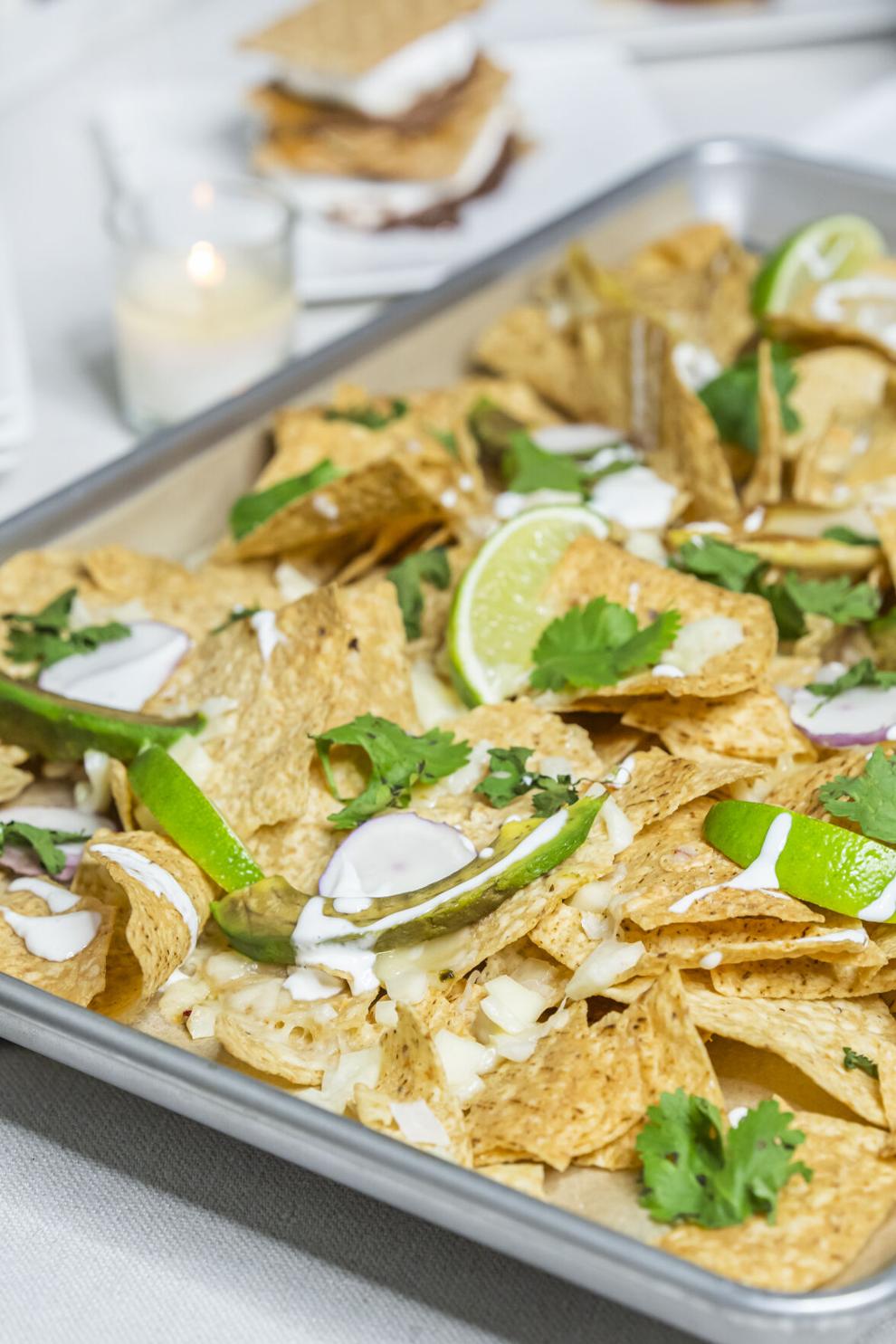 Preheat the oven to 375 degrees
I call this elegant plate shape a nacho-lite salad. The salty corn tortilla chips are topped with delicate and slightly bitter endive skewers, sliced ​​white and soft pink radishes, lots of chopped white onions, sliced ​​avocado and fresh cilantro.
I sprinkle a little diced pepperjack and cotija cheese and then bake a little until the chips are deep golden, the onions smell, and the cheese oozes.
Drizzle on Crema Mexicana, and finish with more fresh coriander and fresh lime boats.
---
.