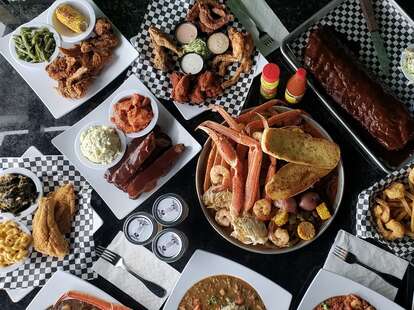 Hard to believe we know, but we checked the calendar and yes, it's winter in San Diego. Not that it matters that much to us here in America's Finest City – our virtually perfect weather ensures we can always get out and enjoy new things to see, eat, drink and do. So as you prepare for temperatures to plunge into the 50s, you can bookmark these establishments scheduled to arrive on our shores in early 2022. From Caribbean-inspired cuisine to Cajun soulfood, a new French bakery and more, here are ten winter openings we can not shut up about:
Liberty Station
Opening date: January
Why eat a donut when you can eat two or three without guilt? The Mini Donut Company, with their two-bite treasures, lets you do just that. They open their first brick-and-mortar store at Liberty Public Market with their distinctive sugar, glazed and sprinkled offerings, plus special editions that add Captain Crunch, Oreo, Fruity Pebbles, Reese's Pieces and more, available for pre-order pickup .
How to book: Order online for pickup. Seating will be on a first-come, first-served basis.
North Park
Opening date: January
Former San Diego teacher Melanie Dunn spent three summers in Paris at Le Cordon Bleu and returned each fall to teach high school English. After completing her program, she returned to San Diego, where she eventually opened a bakery in the cottage industry in the work / live townhouse she shares with her husband and daughter in Hillcrest. An instant hit, customers flocked to the small shop, scooping up her amazing wine series and cakes. A planned expansion to a larger space in North Park was announced, after which COVID-19 put everything on hold for a few years. But good things come to those who wait, they say, and Pâtisserie Mélanie is ready to once again serve its distinctive French pastries, such as kouign-amanns and cannelés, plus daily appetizers and lunch appetizers.
How to book: Seating will be on a first-come, first-served basis.
La Jolla
Opening date: Early in 2022
Formerly the La Jolla Inn, the Cormorant Boutique Hotel has undergone an extensive, three-year renovation that brings a mid-century modern aesthetic to the heart of La Jolla. Twenty-six nautical-inspired rooms, each with a balcony and sweeping views of the Pacific Ocean; a new rooftop bar, Birdseye, with craft cocktails and small plates; and Prospect Market, an exclusive grab-and-go marketplace, has everything you need for out-of-town guests or a luxurious stay for yourself.
How to book: Sign up for email news and updates online.
Liberty Station
Opening date: February
Brought to you by Good Time Design, the folks behind some of San Diego's most fun venues such as The Presley, The Blind Burro and Moonshine Beach, we look forward to the opening of Go Go Amigo, a restaurant south of the border-inspired restaurant. set to open in the old El Jardin room. The extensive renovation has created additional patio space, as well as a new outdoor bar area. The menu highlights divisible plates of classic Mexican food and unique fusion dishes, including stone fish and pulpo aguachile, chicken tinga-grilled cheese, plus a variety of appetizers, tacos, soups, salads and desserts. As expected, the beverage program shows tequila-based cocktails such as prickly pear slushies and cucumber jalapeno margaritas.
How to book: Reservation details are not yet available, but you can sign up for their newsletter or follow them on Instagram for updates.
La Jolla
Opening date: February
From the Las Vegas-based Clique Hospitality, which brought us two of San Diego's culinary hotspots, Lionfish and Serēa, comes Joya Organic Kitchen, which lands on The Boardwalk at Science Center Drive, near UC San Diego. With a focus on breakfast, lunch and happy hour, James Beard Smart Catch Leader, chef JoJo Ruiz, along with chef Ryan Bullock, Joya's breakfast menu features freshly squeezed juices, smoothies, acai bowls and coffee, while lunch focuses on organic farm fresh menu items, daily specials and delicious grab-and-go salads and sandwiches. The massive, 4,000-square-foot venue will also be available for catering and private events.
How to book: Sign up for email news online and via Instagram. Reservations will be available before opening.
Harbor village
Opening date: February
A new opening in Seaport Village that makes us run in water of anticipation is the famous Long Beach eatery, Louisiana Charlie's second location. They bring soul food from New Orleans to San Diego with distinctive Cajun and Creole dishes – think jambalaya, gumbo and po'boys sandwiches, plus offerings of fresh seafood like oysters, crab legs and shrimp.
How to book: Seating will be on a first-come, first-served basis. Sign up for their email list for updates and news, or check out the Seaport Village website.
Gas lamp neighborhood
Opening date: February
The historic Hotel Lester building is home to Madam Bonnies, named after Bertha "Bonnie" White, who ran a hotel brothel from the 1920s to the 1940s. The cocktail program shows gin, vodka and bourbon drinks, wine by the glass or bottle and a daily selection of beers. Cajun prime rib bites, a selection of salads, Bonnie's rotisserie meats and sides are on the eclectic menu, plus delicious desserts like hot brioche bread pudding, an ice cream flight and a signature house biscuit.
How to book: Reservation details are not available yet, but you can follow them on Instagram for updates.
Encinitas
Opening date: March
Another new concept from Clique Hospitality, Temaki Bar Handroll & Sake celebrates traditional temaki sushi, which is conventionally eaten immediately after the sushi chef has given it to the customer, ensuring the perfect combination of hot rice, cold fish and crispy nori. Temaki's distinctive tuna roll with their tasty spicy sauce, blue crab, yellowtail, salmon and more are menu favorites along with a varied selection of sake.
How to book: Reservation details have not been released, but you can sign up for email news online and follow them on Instagram for details.
Little Italy
Opening date: March
Miss B's Coconut Club brings Tulum's spirit to Little Italy with Coco Maya, a new top-level restaurant that opens in the space previously occupied by Prepkitchen. The main cocktail bar illuminates a 30 by 30 foot skylight along with a newly created outdoor deck. The cocktail menu, created by Rob McShea, features Yucatan Peninsula-inspired tequila drinks, while the menu features Caribbean flavors and modern offerings of Jamaican charcoal cooking.
How to book: Reservation details have not been released, but you can follow the latest news via Instagram.
La Jolla
Opening date: Spring
Boasting a star in culinary staff that includes head chef Chad Huff (Providence in Hollywood, Felix Trattoria in Venice and Broad Street Oyster Co. in Malibu), culinary director Erik Aronow (Republique, Destroyer and Vespertine in Los Angeles), bar and spirits creative director Beau du Bois (three Michelin stars The Restaurant at Meadowood), and Dylan Shipsey, a veteran of the Union Square Hospitality Group, Marisi will specialize in Italian fireplace cooking, handmade pastas and classic cocktails. To celebrate the wide range of Italian dishes, the highlights of the opening menu include tortelli with oyster mushrooms and brown butter; tonnarelli gricia with guanciale, black pepper and pecorino; calamari with Calabrian chili, tomato and shallots; and a beef carpaccio with green onions, pine nuts and horseradish. The dynamic cocktail program offers a range of Italian aperitivo, homemade limoncello, rare spirits and an Italian lager made especially for Marisi.
How to book: Reservation details have not been released, but you can sign up for email news online and follow them on Instagram for details.
Want more Thrillist? Follow us on Instagram, Twitter, Pinterest, YouTube, TikTok and Snapchat.
Mary Beth Abate is a San Diego-based freelance writer from Chicago and Los Angeles. Her hobbies include yoga, pickling and fermentation, reading cookbooks and drinking amazing gin. Stay up to date with her experiments @MaryBeth_Abate.
.