The months after the holidays, and before the piles of gray-brown snow finally melt from the streets of New York, are the most frightening of the year. Icy temperatures, numb toes, dry, cracked skin – if I had the will, I would simply fast forward to the first week of April, where we can comfortably sip smuggled goods with hard kombucha in Domino Park without a jacket. Alas, the winter break is over, COVID is still scary, and we trudge to our home workstations in hopes that our New Year's sequel and the afterglow of holiday cheer will keep us going. Fortunately, Coveteur has contacted a few of our friends and favorite tasters to tell us their methods and routines that will help them fight back-to-work blues and get through these cold months.
"My mornings are about writing. Every night before I go to bed, I throw a bunch of oats in a jar of almond milk, oat milk, berries from the farmer's market and honey. Then I spend the earliest morning hours writing, eating my oats over night and drink at least three pieces of iced coffee (even in the coldest winter months) before trying to find the endless notifications and emails that inevitably come from working in digital media.It has always been important to me to have a moment of silence and focused intention before each working day. "
Batsheva Hay, designer and founder of Batsheva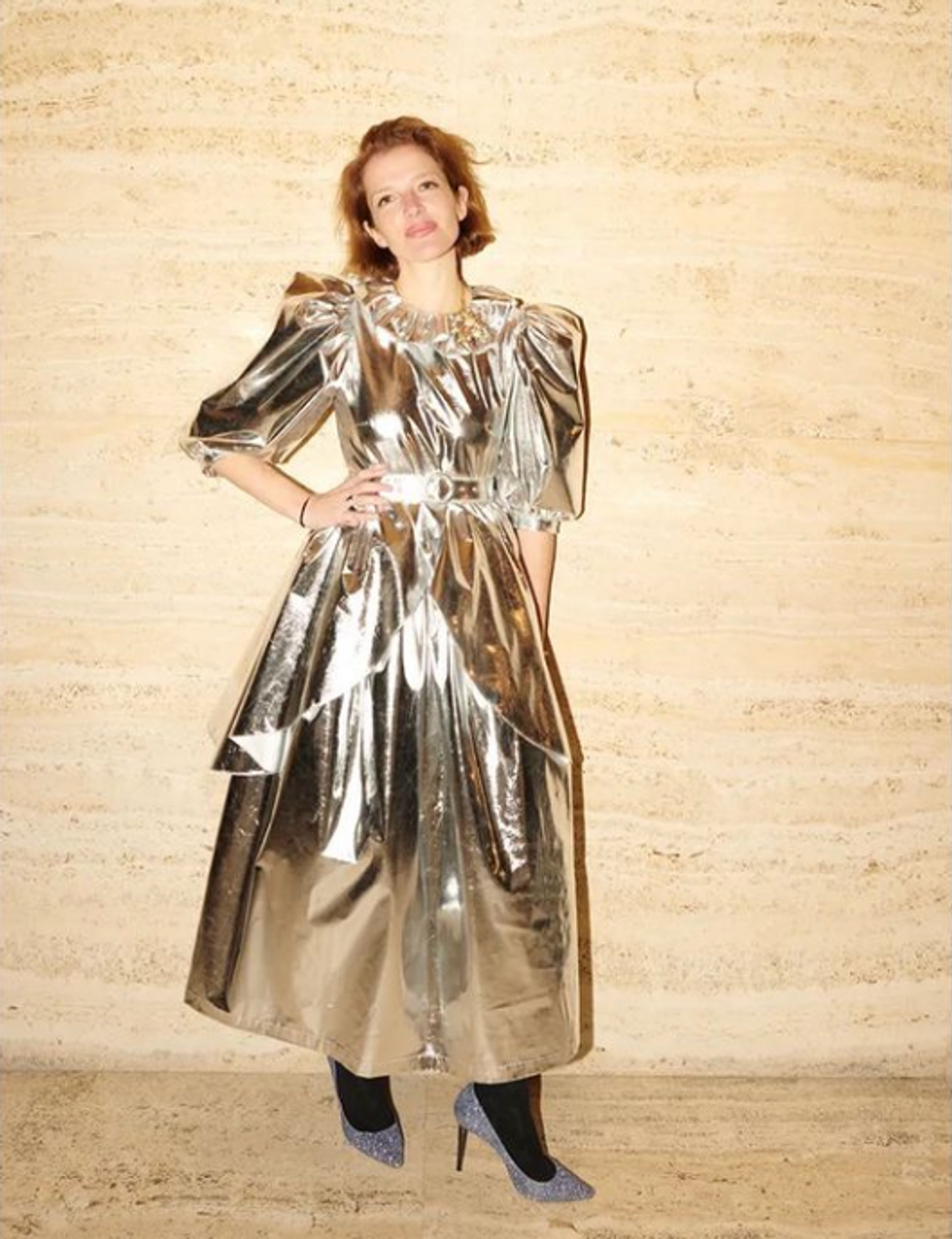 Photo: Lent by Batsheva Hay
"I go for quick walks (to the office, to factories). I think the cold wakes me up, makes me feel more energetic and sets my circulation in motion. I also have lots of little chocolates around the office. Such small treats make me happy. I also have more sparkles on. "
Mandy Lee, fashion commentator and trend forecaster
"I get so nauseous with the Sunday fun! Before coming back from a longer break, they start Friday or Saturday anticipating the whiplash transition from holiday mode to business as usual. I always love to start the year with a big cleanup and organization. This year I've washed every single piece of clothing in my wardrobe and rearranged according to category and color. I've even hung a few floating shelves for more shoe storage. Working with my hands really helps keep my mind clear, plus it's always a pleasure waking up on a Monday morning after vacation to a clean and organized home removes so much stress.
"I also buy a new journal every year. Journalizing for fun and treating it like a diary has been a ritual I've had for two decades, it's super therapeutic, and I love ringing in the new year with fresh pages to mark a symbolic fresh start. "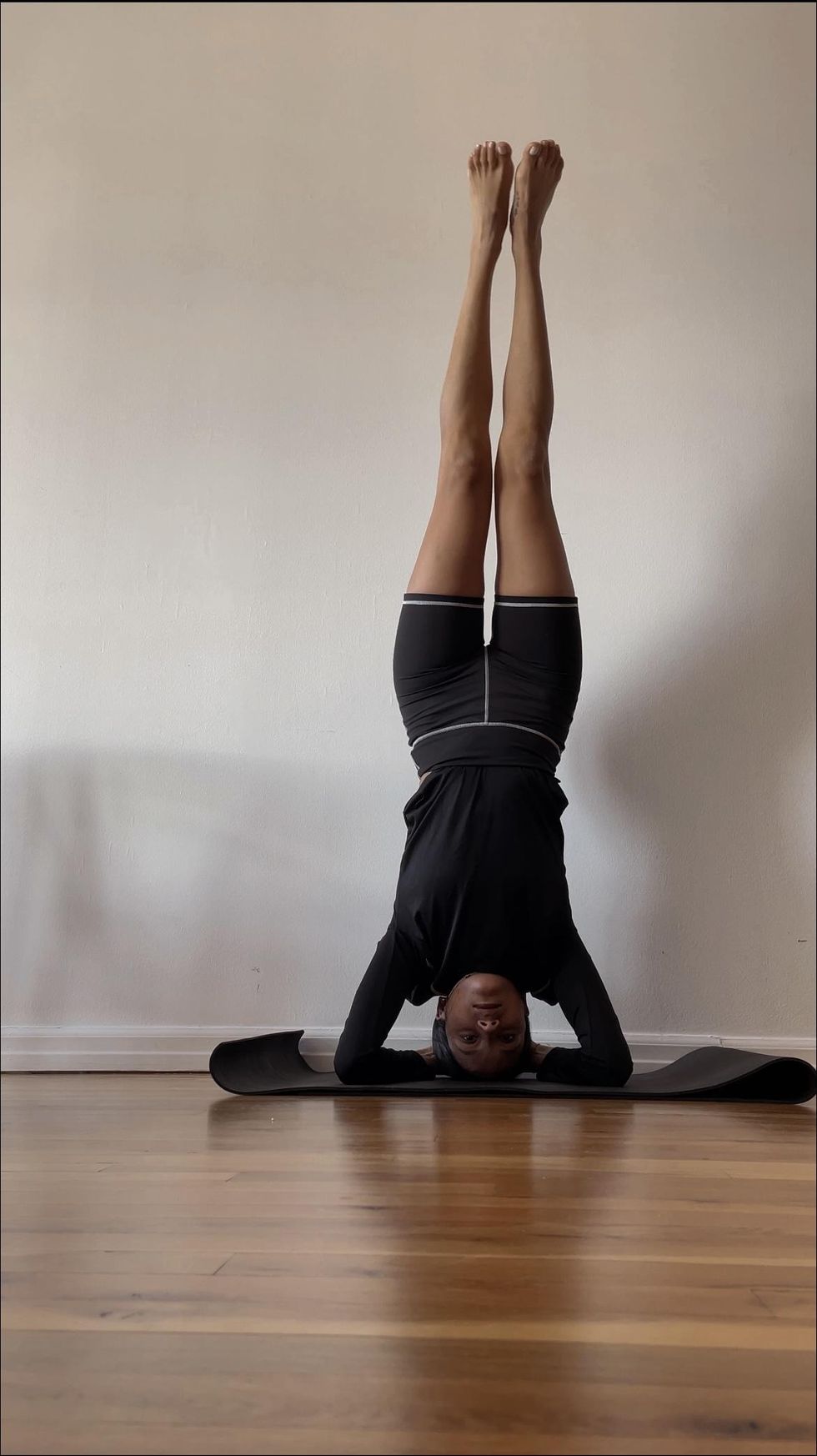 Photo: Lent by Megan Kothari
"I love filling up my personal and professional space with my favorite essential oils and lighting candles as our sense of smell has a direct main line to the brain; I believe in surrounding myself with uplifting scents to lift my mood and energy around me.
"I also practice gratitude through journaling, ashtanga yoga and vipassana meditation to ground myself all year round, but find it extra helpful during the cold and dark winter months. There are so many factors we can not control – in instead of focusing on it, how can we focus on what is going right? How can we make room for joy every day? How can we remind ourselves of who and what we are grateful for? "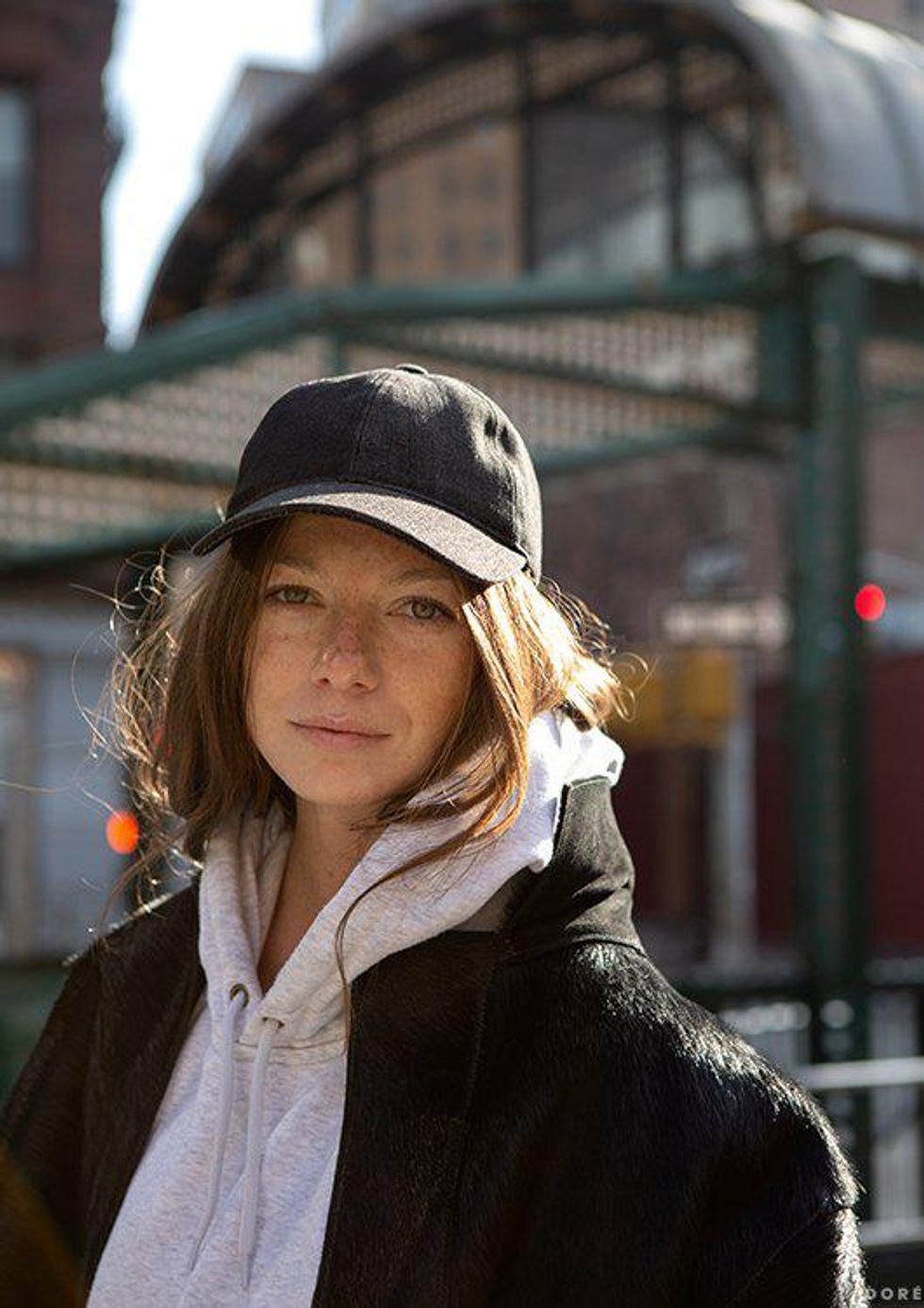 Photo: Lent by Elizabeth Kuzyk
"Every morning before the day starts, I have to recognize that noise and not let it control my day.
"Meditating: I have been practicing meditation for many years. It has been the tool that brings me to what I call my true self: where my creativity and perspective live."
"Play: A dance class early in the morning is my way of starting the day with a sense of play, of choosing to let go and really just have fun."
Creativity: A daily influx starts with some form of creativity. Whether I get inspiration for the upcoming collection, form a moodboard, draw, write, make a playlist or move to that playlist. "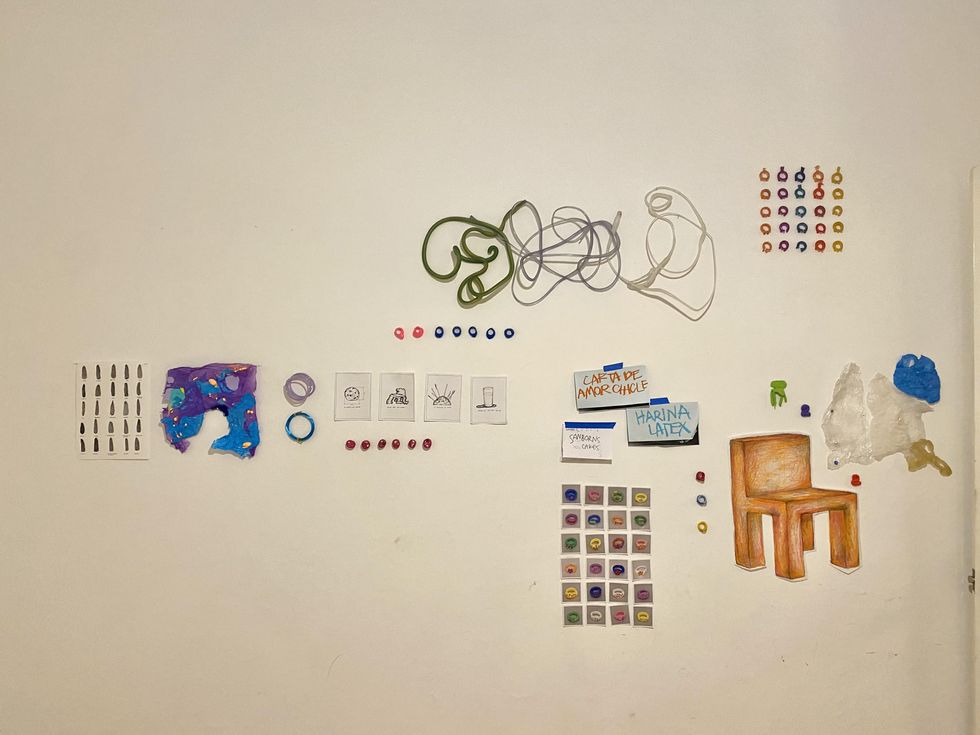 Photo: Lent by Blobb
"What I usually do the first few weeks of January is write everything down on a piece of paper or different papers and put them on the wall as a reminder to do those things. I like it and it keeps me going. "top of new projects or ideas that I have to make. It helps me get excited for January and February, and honestly, it's such a simple way to celebrate the new year."
"Some traditions, rituals and routines I follow to keep my spirits up through January and February are:
"Long walks during sunrise and / or sunset, I find them energizing but soothing at the same time. I find that even when I'm not inspired, I can not help but take a picture of a good sunrise or sunset!
"New Year's resolutions can be scary. I enjoy making daily to-do lists, but I add simple tasks that are easy to perform during the day, like taking my dog ​​for a 15-minute walk or drinking two gallons of water so I can easily cross things off and feel a sense of accomplishment. If I only add demanding tasks, it can feel disappointing and overwhelming if I can not accomplish them during the day.
"Drinking more water and staying hydrated has always been one of my best New Year's resolutions for a single step to get back to healthy thinking, and my Demasa bag just makes it so much easier to stay on track."
"I tend to go through the winter holidays like I would have gone through a break. Eat, read and wear something new; exercise; try something new with my hair (at least change shampoo); stick your head outside when the sun is in the sun, shining and reconnecting with people I have not seen in a while.
"Refresh my closet: Not a complete overhaul, it can be too much work and overwhelming. Just focusing on a small two-month capsule. This winter I use inspiration from Prada's autumn / winter '98 collections and various vintage shops. Desert Vintage have phenomenal pieces and their Instagram is a mega photo archive of previous collections.Their impeccable styling is refreshing and full of inspiration.I want to start by drawing from what I have and see if there has been anything on my shopping or wish lists (Loewe boots with big eyes) that would complement what I already own.
Pack for work: Grab an old cookbook (or pick a few bookmarks online) and prepare a few fresh and previously beloved recipes that I haven't made in a while to prepare meals for my first few weeks left. My husband , Cale, just made this incredible salt and olive oil bread last night, which is good for EVERYTHING, I'm also low on root beer, so to slow down (not eliminate) I've packed mango juice from Spindrift and Mrs. Earl Gray tea in the afternoon.I find some fresh flower spots and make arrangements for home and work so we have something fresh and springy on our desks and tables.On the way to the studio I will listen to Smartless podcast.Listen to Sean Hayes infectious laugh and charming teasing warms my soul, especially on these often cold and sad mornings.
"Surround me with color: We are getting ready to launch our spring / summer collections, so between the flowers, spring moodboards and new colorful pieces, there is a lot of color and excitement happening in the studio right now. This winter I have pampered myself with a pair of Hermes nail polishes and was happy to find out that they are almost identical to some of our new watch strap color variants this year
Mini-pampering: Paint my nails a new shade and take the skin care samples I have collected all year. You can clean up, shake your skin care routine and solve dry winter skin without committing to a whole new regimen at once (free ). It is very satisfying."
"When I go back to work in January and face February (the shortest month of the year for a reason), I focus on feeling my best. For me, that means regular exercise, healthy food and limited alcohol.
"Then I go in colors! Colorful jewelry and colorful clothes. Although it may be one piece in a touch of purple, yellow or red, it is a sure booster!"
window.REBELMOUSE_ACTIVE_TASKS_QUEUE.push(function(){
var makeMonitor = (getStatus, cb, delay) => { delay = delay || 100; var monitor = () => { var time = +new Date(); var status = getStatus(); if (status) { return cb(status); } else { if (!stopMonitor && +new Date() - time < 30 * 60 * 1000) { monitorId = setTimeout(monitor, delay); } else { cb(false); } } }, cancel = () => { stopMonitor = true; clearInterval(monitorId); }; let monitorId, stopMonitor = false; return { start: monitor, cancel: cancel, }; };
var leftArrowCarrousel = makeMonitor( function () { return document.querySelector( ".shop-sidebar.shop-posts .posts-wrapper .slick-next" ); }, function (res) { res.addEventListener("click", () => { gtag("event", "Left Arrow Click", { event_category: "Shopping Module", event_label: "Previous product at carrousel", }); }); } );
leftArrowCarrousel.start();
var rightArrowCarrousel = makeMonitor( function () { return document.querySelector( ".shop-sidebar.shop-posts .posts-wrapper .slick-prev" ); }, function (res) { res.addEventListener("click", () => { gtag("event", "Right Arrow Click", { event_category: "Shopping Module", event_label: "Next product at carrousel", }); }); } );
rightArrowCarrousel.start();
var buyButton = makeMonitor( function () { return document.querySelectorAll( ".shop-sidebar.shop-posts .posts-wrapper .widget__product-buy-link-btn" ); }, function (res) { for (let button of res) { button.addEventListener("click", () => { gtag("event", "Buy button click", { event_category: "Shopping Module", event_label: `${button["href"]}`, }); }); } } );
buyButton.start();
var imageShopp = makeMonitor( function () { return document.querySelectorAll( ".shop-sidebar.shop-posts .posts-wrapper .widget__head a" ); }, function (res) { for (let image of res) { image.addEventListener("click", () => { gtag("event", "Image click", { event_category: "Shopping Module", event_label: `${image["href"]}`, }); }); } } );
imageShopp.start();
var productTitle = makeMonitor( function () { return document.querySelectorAll( ".shop-sidebar.shop-posts .posts-wrapper .widget__headline .widget__headline-text" ); }, function (res) { for (let product of res) { product.addEventListener("click", () => { gtag("event", "Product title click", { event_category: "Shopping Module", event_label: `${product["href"]}`, }); }); } } );
productTitle.start();
});
window.REBELMOUSE_ACTIVE_TASKS_QUEUE.push(function(){
window.REBELMOUSE_STDLIB.loadExternalScript("https://s.skimresources.com/js/150311X1615657.skimlinks.js", function() {
});
});
window.REBELMOUSE_ACTIVE_TASKS_QUEUE.push(function(){
!function(f,b,e,v,n,t,s){if(f.fbq)return;n=f.fbq=function(){n.callMethod?n.callMethod.apply(n,arguments):n.queue.push(arguments)};if(!f._fbq)f._fbq=n;n.push=n;n.loaded=!0;n.version='2.0';n.queue=[];t=b.createElement(e);t.async=!0;t.src=v;s=b.getElementsByTagName(e)[0];s.parentNode.insertBefore(t,s)}(window, document,'script','https://connect.facebook.net/en_US/fbevents.js');fbq('init', '1248680838922690');fbq('track', 'PageView');
});
window.REBELMOUSE_ACTIVE_TASKS_QUEUE.push(function(){
window.REBELMOUSE_STDLIB.onElementInViewport({ threshold: 400, selector: "video", oneTime: true, onIntersect: function(entry){ var element = entry.target; element.setAttribute("allow","autoplay"); element.loop = true; element.muted = true; element.autoplay = true; element.setAttribute("playsinline","true"); //element.controls = false; element.play(); } });
});