Halwa, a word primarily associated with gajar, suji, atta and moong dal, is a sweet dish that has a rich history. It is said that the method of cooking halwa originated in the Ottoman Empire between 1520-1566. The word halwa itself is derived from the Arabic word 'Halw', which means 'something sweet'. While talking about desserts, one can never miss the traditional halwa. Now you may have heard of the unusual, lauki ka halwa or even kaddu ka halwa, but have you ever encountered Ande Ka Halwa, popularly known as Dimer Halwa in Bangla?
It may sound uncomfortable at once, but once you have taken a bite of this amazing 'Ande Ka Halwa', you will ask for more of it. Of all the halvas, this one is packed with health benefits and is super rich in protein. Often this halwa is made in the winter as it also keeps you warm. Although the origin of this dessert is still unknown, but this dessert is often considered a Pakistani and Bangladeshi recipe. This dessert is also known as 'Ande Ka Meetha', which means a sweet dish made from eggs. It is a dish to be tried during the popular Muslim festivals – 'Shab-e-Barat' and 'Ramadan' for the iftar meal.
If you're still wondering about the taste of this dessert, do not! It is an irresistibly sweet dish that does not even have a hint of flavor or taste of duck or an egg. Instead, a bite of it and you will feel the amazing taste of this halwa. It is by far one of the most popular non-vegetarian halvas you can ever have in your life. This halwa does not have the typical egg smell in it and tastes incredible. If you are still unsure of the taste and flavor of this halwa, try it for yourself. Here is a simple recipe for Egg Halwa that you can make the halwa in just 20-30 minutes.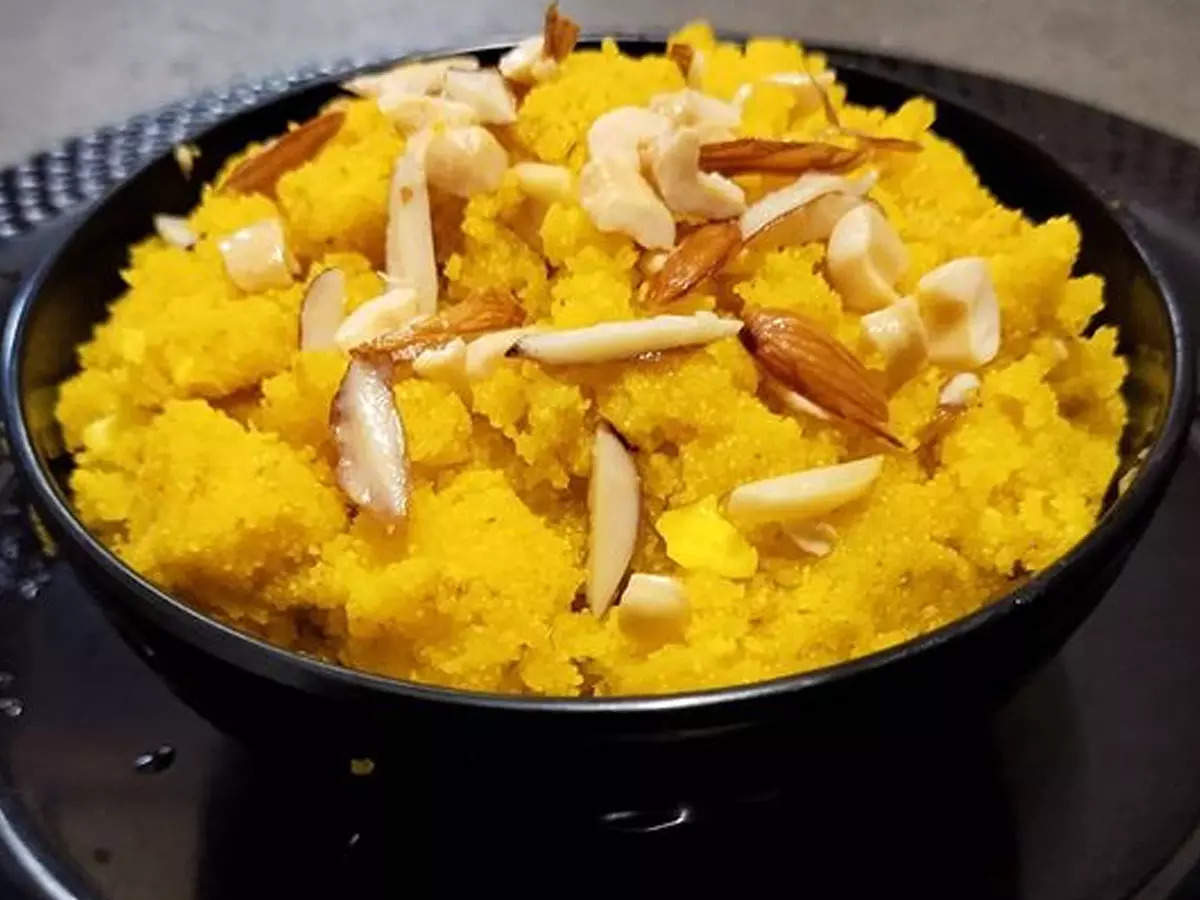 ingredients

4 eggs,

1 cup whole milk,

1/2 cup condensed milk,

3-4 tablespoons semolina,

4 green cardamom,

4 tablespoons sugar,

1 pinch saffron,

1/2 cup ghee,

1 teaspoon vanilla essence,

2 tablespoons mixed nuts for garnish
Method

Put a kadhai on medium flame and heat the ghee in it. When it is hot enough, add semolina to it over low heat. Then add green cardamom in it. Meanwhile, take a large bowl and beat eggs in it. Add condensed milk, sugar together with milk at intervals and make a nice dough by mixing it all well. Now that the suji is brown in color, add this egg batter to the kadhai and stir well. When all the ingredients are well mixed together, add the vanilla essence and saffron in it. Mix well and cook the halva until it is grainy and light yellow in color. When you see the ghee separate from the halwa, it's done. Now add mixed nuts over it and stir again. Serve hot.

.