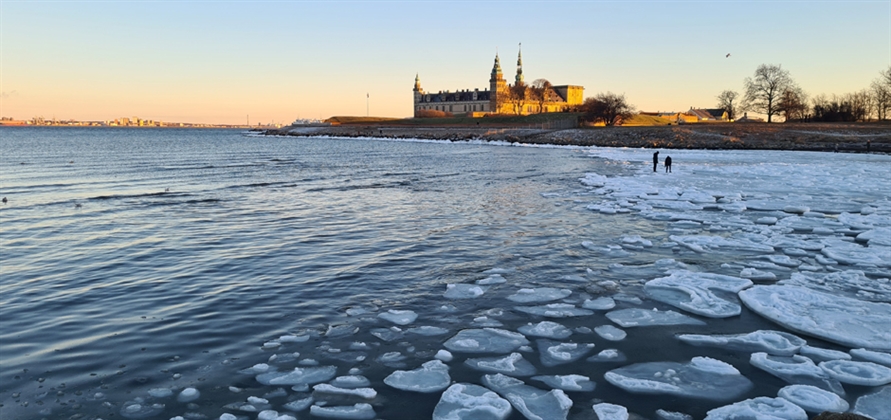 Cruises to Copenhagen in the low season give guests the opportunity to visit attractions such as Krongborg Castle without the crowds
For centuries, Scandinavians have strived to achieve coziness, a sense of warmth, coziness, sociability and contentment that comes from enjoying simple pleasures and spending time with loved ones. Over the last few years, this concept has spread all over the world and enticed people to visit countries like Denmark to discover for themselves why Scandinavians routinely top the charts as some of the happiest people in the world.
While cosiness can be found all year round in Denmark, autumn and winter are the best time to experience it, where Danes use open fire, candles, party candles, blankets and mulled wine (mulled wine) to light up the darker days. And that is one of the many reasons why CruiseCopenhagen, a business-to-business network of cruise ports, destinations, attractions, hotels and suppliers, encourages cruise operators to visit the Danish capital Copenhagen in the low season.
Visiting Copenhagen this season gives cruise guests the opportunity to take advantage of the fact that there are fewer tourists in the city, allowing them to explore popular attractions, shopping areas and places to eat and drink without the crowds. In addition, they can take part in a wide range of excursions and tours that are only available during the fall and winter months.
Cruise tourists can, for example, take a bus trip to North Zealand to see picturesque coastal views and autumn leaves, as well as to explore Denmark's history in places like Kronborg Castle (the setting for William Shakespeare's play Hamlet) and Frederiksborg Castle. Other attractions, such as Christiansborg Castle and Amalienborg Castle, are also more magical these months. Elsewhere, Tivoli, the third oldest amusement park in the world, hosts a Halloween exhibit from mid-October to early November. This is followed by an annual Christmas experience from the end of November to the beginning of January.
Other unique experiences that are exclusively available to cruise guests during the holiday season include pre-arranged trips to Christmas markets on the outskirts of Copenhagen, visits to local Danes serving mulled wine and home-baked cookies, and dining experiences at local restaurants offering traditional Christmas food and schnapps. In addition, Strömma offers daily canal tours on both decorated with festive lights and decorations, and The Royal Copenhagen Flagship Store hosts Royal Copenhagen's annual Christmas table exhibition. Meanwhile, cruise guests arriving in February can attend the Copenhagen Light Festival.
The highlight for many visitors, however, is the opportunity to immerse themselves in Copenhagen's diverse and innovative gastronomic scene. Known as the Scandinavian capital of gourmet and sustainable cuisine, the city boasts 23 Michelin stars in 14 restaurants, of which more than seven are sustainable stars – the most in any European city. It also offers a number of bistros, cafés, eateries and eateries that cater for all tastes and budgets, serving everything from classic Danish dishes to fresh seafood, sustainable meals and craft beers. In addition, Copenhagen is the epicenter of the new Nordic cuisine, which is pioneering the renowned restaurant Noma and focuses on creating meals made from fresh, simple and seasonal local ingredients. All restaurants are quieter in the low season, offering cruise ships the ideal opportunity to arrange gastronomic excursion experiences for guests.
Calling in the low season also provides logistical and cost benefits for cruise lines. Not only can they get access to discounts on port charges and charges, but they will also have more space to dock in the Port of Copenhagen, which is one of the largest turnaround and transit ports in Northern Europe and can accommodate the largest cruise ships. currently at sea. .
By encouraging cruise operators to plan calls throughout the year rather than just in high season, CruiseCopenhagen also aims to reduce air and noise pollution, helping to alleviate local concerns about the industry's environmental impact. It is also part of the network's multifaceted efforts to help the Nordic Council of Ministers achieve its goal of making Northern Europe the most sustainable cruise destination in the world by 2030.
CruiseCopenhagen's members work with more than 60 partners to make it easy for cruise lines to plan calls and land excursions throughout the year. It also offers a website that shows destinations all over Denmark and pages for each of the country's 12 cruise ports with important information about port facilities, waste management, popular attractions, excursions on land, hotel and dining recommendations and local transport.
In addition, CruiseCopenhagen is developing a new microsite, which will show the benefits of off-peak cruising in Copenhagen and will be linked to an event calendar. This will allow cruise operators to plan their travel plans around upcoming festivals, exhibitions and other events.
CruiseCopenhagen's strategy, which was implemented before the pandemic, is already showing signs of success. For the first time ever, Copenhagen expects to host cruise calls all year round in 2022 and predicts that they will see similar visits in future low seasons.
This article was first published in the 2022 issue of Cruise & Ferry Itinerary Planning. All information was correct at the time of printing, but may have changed since.
Subscribe to Cruise and Ferry Planning FREE here to have the next issue delivered directly to your inbox or door.
Share this story