Food

Stay warm in cold weather with these drinks in and around Boston.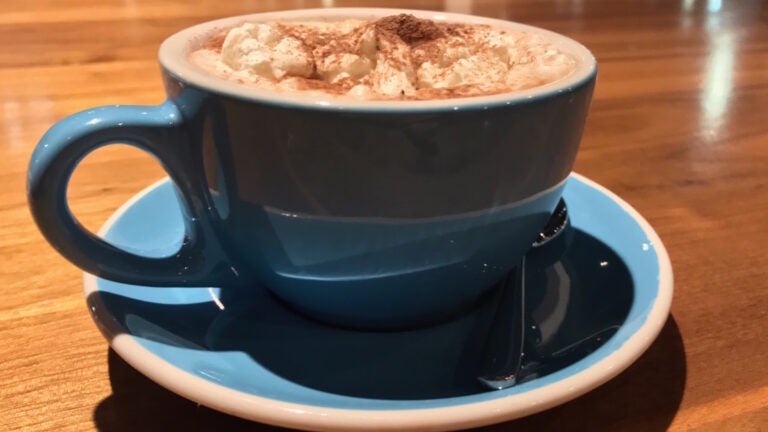 The coldest air of the season has finally arrived, which gives few reasons to venture out this weekend. However, with National hot chocolate day on Sunday it's the perfect time to find ways to pamper yourself. As you inevitably step outside into the cold, prepare to warm up with these five must-have winter drinks in and around Boston.
BCR (Bambara Cocoa Rye)
$ 11; Bambara Kitchen & Bar, Cambridge
To celebrate everyone's love of hot chocolate, the leading bartender from Bambara Kitchen & Bar, Alex Wiegand, offers a hot chocolate. Mixed with rye whiskey and all-purpose dram (cinnamon, cloves and nutmeg in a dark and spicy liqueur), this Bambara Cocoa Rye is available for pick-up or delivery and is guaranteed to warm you up.
Hot Brown Sugar Bubble Latte
$ 5.50; OneZo, more places
Do you need some fresh boba pearls? At OneZo, this all-time favorite Brown Sugar Bubble Latte will surely satisfy. In addition to choosing from a wide range of unique, homemade boba flavors, such as sesame and brown sugar, you can further customize your drink with additions like sweet cheese foam for an extra layer of perfection.
Spiked apple cider
$ 12; River Bar, Somerville
Apple cider need not only be referred to the fall season, especially when the drink is best served hot. Whatever the reason, a Spiked Apple Cider cocktail at Assembly Row's River Bar will definitely bring back your fall dreams. With the cocktail's premium bourbon selected from Four roses, this will definitely rejuvenate your mind and body with its aromatic scent and distinct taste.
American
$ 3; Honeycomb Cafe, Dorchester
For a simple drink to stay warm and caffeinated, you can not go wrong with a classic Americano at Honeycomb Cafe. The Dorchester site is dedicated to picking up ingredients from local businesses, including its coffee beans, which come from Union coffee roasters and Ayer. It's a win-win.
Matcha Latte
$ 6.25; Ogawa coffee, Boston
If you're looking for a cup of matcha goodness, look no further than Ogawa in downtown Boston. The Japanese coffee chain's only international location offers both sweet and unsweetened matcha latte – a favorite among online reviewers. Order this drink for the right amount of sweet mixed with bitter from the matcha powder.